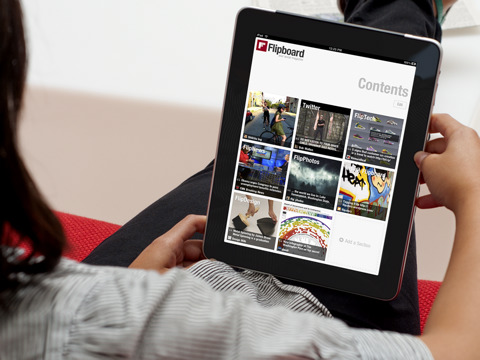 I just… the insanity of this… "Flipboard, the online news magazine app, has raised $50m at a $800m valuation, which is almost 50% of the market cap of The New York Times Company at $1.75 billion." A near-billion dollar valuation?
From Tom Forenski:
The valuation of Flipboard is an example of a Silicon Valley media company that produces no media content of its own. Its revenues come from advertising placed on its app which collects content recommended by the social networks of its users. Its revenues are not disclosed and it employs less than 200 people.
Compare to:
The New York Times Company  [$NYT] publishes two national newspapers plus 16 regional newspapers. It also owns eight television stations and two New York radio stations. It operates more than 40 web sites. It has 5,363 staff and 2012 revenues of $2 billion.
Here again, we support the pipeline instead of the content creator. As a pipeline aggregator, Flipboard "derives revenue with advertising splits with publishers for ads it places on Flipboard pages," reports Kara Swisher. Here's a prediction: the revenue will be enough to keep Flipboard in business, but not the New York Times. Maybe I'm wrong; startups don't release revenues after all, not until they go public, so it's possible Flipboard is rolling in money and sharing it with publishers. But then why raise another $50 million?
More likely is they have no idea how to monetize at scale (despite their first $50 million, they're still only piloting advertising programs and have started to partner with sites like Etsy to get a cut of their cart). Not that it matters if a company makes money anymore, they can still IPO. If pipelines, like say, Beacon, can support content creators in a meaningful way, that would make a near-billion dollar valuation exciting. Until then, pipelines and platforms will just keep taking cuts until there's nothing left for the creator. Oh wait, that's now.