This is Part 2 of talking about my recent marriage. Read Part 1, How to Get Married After a Long-Term Relationship, here.
Okay, let's preface this post right upfront:
1) "Expensive" and "cheap" are relative terms. But know that we live in Washington, DC and it's one of the wealthiest – and most expensive – places to live in the country, so that's where our paradigm comes from.
2) We all browse the wedding blogs and Pinterest in anticipation of the big day. As we gain inspiration, our budget gains dollar signs. During my research, I found it exasperating that no one ever, ever shared price tags (um, $ vs $$$ is not helpful). I desperately wanted to see how much a wedding truly cost, so I hope this helps future brides and grooms. This isn't meant to brag or express regret; it's simply a report of what we spent (okay, there is some bragging, some regret).
3) No BS here. This is an honest all-in accounting of how much our wedding cost. I include the cost of the dress and decorations, all the way down to the cost of airline snacks, sales tax and last-minute wrinkle releaser. If anything, I'm meticulous and that's what you get here.
Where Do You Start?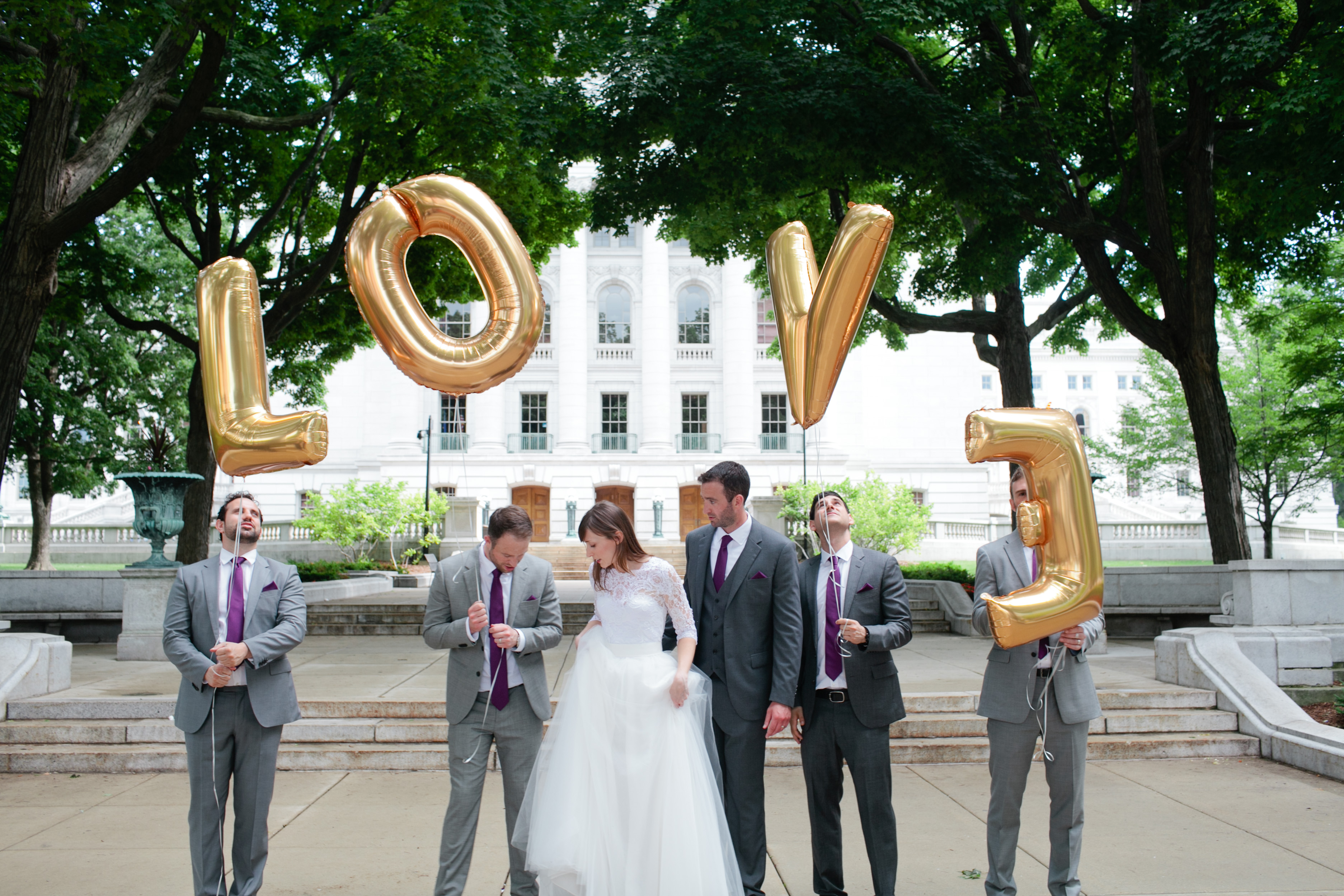 We started with the venue, believing if we could find the right venue, everything else would fall into place. We started looking in or just outside where we currently live, our Capitol city of Washington, DC. I think I researched every single freakin' venue within a 100 mile radius (obsessive much?).
Originally I didn't want to spend more than $5000 – $7000 (this was after Ryan talked me out of eloping with a cost of $50.) I kept thinking there must be a deal that I was just missing, a hidden gem that would be perfect, beautiful, and cheap. The recession was just a couple years ago; surely couples weren't still spending outrageous amounts on one day?
Hahahaha, oh how naive I was.
I searched high and low for off-beat venues, from art galleries to schools to barns to wineries to Airbnb locations to office space in an old Living Social building. Trust me, all the venues with the "we're-not-really-trying-hard-for-our-wedding" vibe have caught on and are charging just as much as the usual suspects.
The cheapest venue I found was a park pavilion with a rental fee of $50, but that was impossible to book in our time frame (who are all these people booking 2 years in advance??). And Ryan didn't like my potluck wedding idea (boo!). The next cheapest venue was an old mill 34 minutes away for a $950 rental fee. Neither of us liked it.
We raised the budget to $10,000, but were adamant this was the max we wanted to spend. It's not that we didn't have the money to spend more, but rather that we preferred to spend that money on a down payment, retirement, and our marriage — not the wedding.
Most reasonable venues in and around DC were a minimum of $3000 to rent (before any food), and we resigned ourselves to spending more. Except, we didn't like any of the new venues either. I got depressed, and we stopped looking.
How Much Does a Wedding Cost?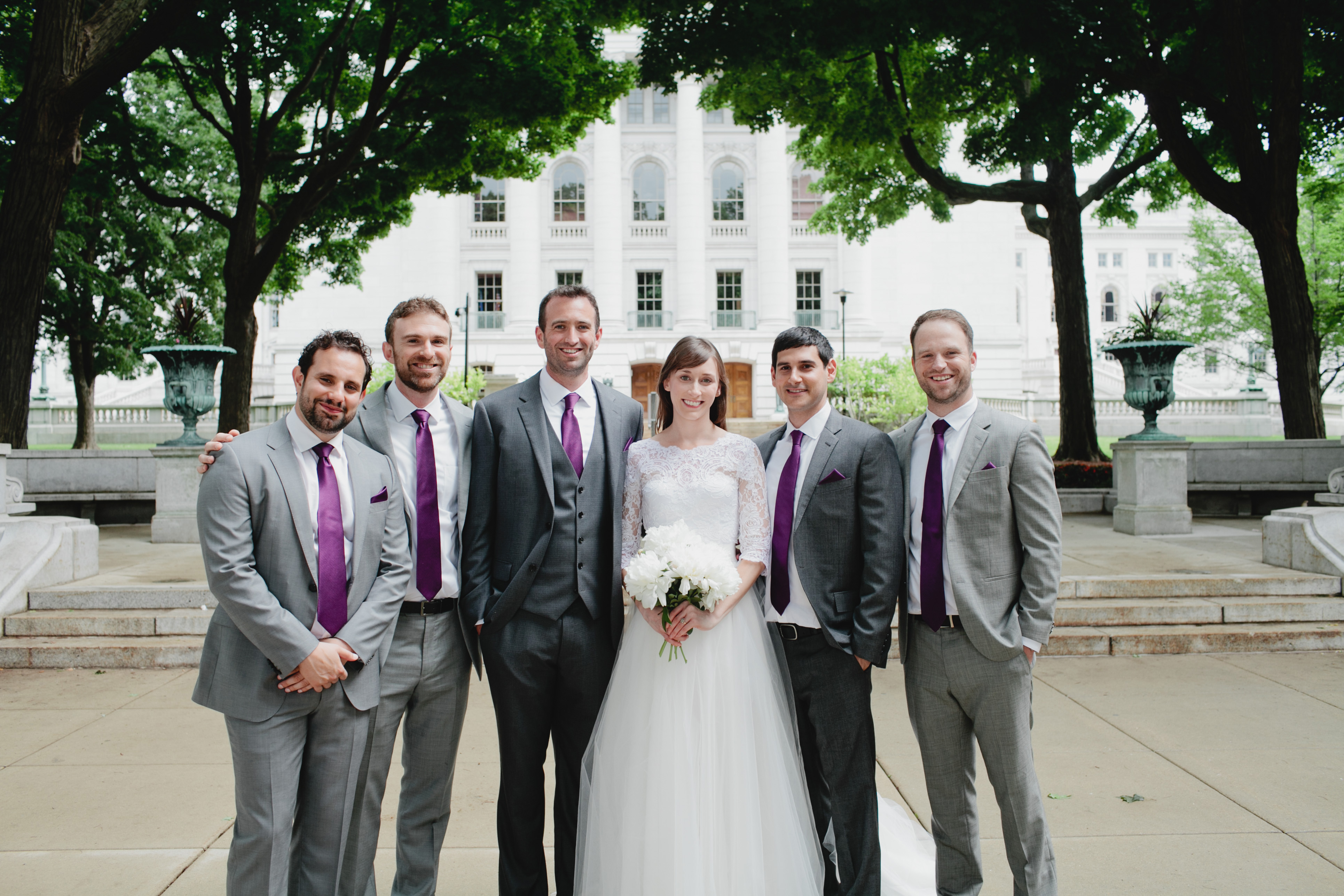 A wedding budget is a personal decision. That's the politically correct thing to say anyway. But in reality, a wedding's costs are due in large part to family, friends and social influence. Marriage is an industry. "Couples are victimized by their own fantasies, cajoled by media visions of celebrity nuptials, and pressured by friends, family, even strangers posting idyllic photos on Pinterest," reports USA Today.
The average wedding cost is $28,427 – and most couples go over-budget (including us). I continued to be depressed and felt like I just wasn't savvy enough to find the deals until I learned that DC area couples have a hard time planning their weddings for under $35,000.
And that's when we started to look outside of DC.
Where Did We Save?
Before we reveal all the details of our wedding, let's talk first about where we did not spend our money.
We did not pay for 250 guests. The primary way we kept costs down was to have a small wedding. We had 65 guests and this definitely had the most impact in keeping costs down after the choice of venues. Part of this was intentional – we didn't invite that many people – but it was also because we essentially had a destination wedding. While it was not at a tropical beach, it was expensive for most folks to fly to Madison, and not everyone we invited could make it.
We did not pay for a wedding planner. If I could have, I would have paid a wedding planner $10,000 to plan us a $5000 wedding. It would have been worth it for someone to handle it all. Alas, wedding planners don't work that way.
Instead, a week before the wedding, we realized it would be nice to have a Day of Coordinator to handle details like filling the balloons, setting up the music and so forth. We reached out to an old friend in Madison, and she was game to help us out. We initially offered her $100, but gave her another $100 when all was said and done because she was so fabulous. I wish I could have given her even more.
We did not pay for wedding invites/postage. Instead, we put up a wedding website, which cost $12 for the URL and $42 for the WordPress theme. We sent email invites out directing people to the wedding website, where they could also RSVP.
We did not pay for the "rehearsal dinner" the night before, but we did invite folks out to our favorite steakhouse, the Tornado Room. And because some folks didn't get in until late Friday night, it was really more of a "Wedding Party & Special Guest Dinner." We paid for our friend/officiant's meal, but no one else's. We told people ahead of time there would be individual checks in case folks wanted to make other plans, but no one complained.
We did not pay for drinks the night before. After the steakhouse dinner, we invited all of our guests to the Irish pub Brocach for drinks Friday night. Again, we made clear this was an informal gathering and everyone would pay their own tabs. It was a great night.
We did not pay for hair and makeup. Or tanning, or false lashes, or teeth whitening. I once read that a bride shouldn't look as if she were a different person on her wedding day, and took that to heart. I did my own makeup and wore my hair the same way I wear it every day. Ryan teared up when I walked down the aisle, so mission accomplished.
We did not pay for fancy flowers. The morning of the wedding, we got peonies and daisies at the Madison Farmer's Market for myself and the ladies. I wasn't planning to get flowers for the reception, but after buying pink peonies for my bouquet, we found white peonies I liked better, so we ended up using the pink ones at dinner. Total cost: $60.
We did not pay for programs. I designed cheeky programs at home, and printed four-to-a-page. The morning I was supposed to deliver the programs to our Day of Coordinator, I used the paper cutter at the hotel to divide them up. They were a huge hit.
We did not pay for live music. We love live music, but I'm glad we decided to go the iPod route, because I don't even remember the music while walking down the aisle. Guys, I was so nervous, I can't even tell you.
We did not pay for a cake. Although we did get dessert platters for folks with a sweet tooth.
We did not pay for a DJ. No room for dancing, so no room for a DJ. I love to dance however, and luckily at the after-party there was a DJ (not planned), and one of our friends joined them at the booth and we got in our drunken dancing after most of our guests had left. Loved it.
We did not pay for a second outfit. My big skirt came with us the entire night.
We did not pay for after-party cocktails or cigars at Maduro, our after-party location. We also did not reserve space at Maduro, so it was a risk going there after dinner. This ended up being one of my favorite parts of the night however – to just be normal on a not-so-normal night.
We did not pay for favors. Memories are enough, don't you think?
We did not pay for a brunch the day after. Again, everyone paid for their own, and we paid for our meals. We invited everyone, but with people's travel schedules, not many folks showed up. If I were to do it again, I would just skip brunch all together. Neither Ryan or I slept the night before – or the night before that – and we were exhausted.
We did not require groomsmen and bridesmaids to wear a certain outfit. While this isn't reflected in our budget, I think our wedding party was happy about it. The groomsmen wore existing gray suits that they owned, while we paid for ties, pocket squares, shades, and alcohol. The moms and bridesmaids wore dresses they picked out on their own. My sister and best friend happened to pick out the same dress in different colors, and both moms picked out dresses with lace – awesome. Given that both moms are in their 60s, my sister flew across an ocean for the wedding and my best friend was pregnant, I just wanted everyone to be comfortable.
Where Did We Spend?
The moment we decided to host our wedding in Madison, WI – the city where we met, had our first fight, first date, fell in love, and got engaged (in that order) – I felt relief.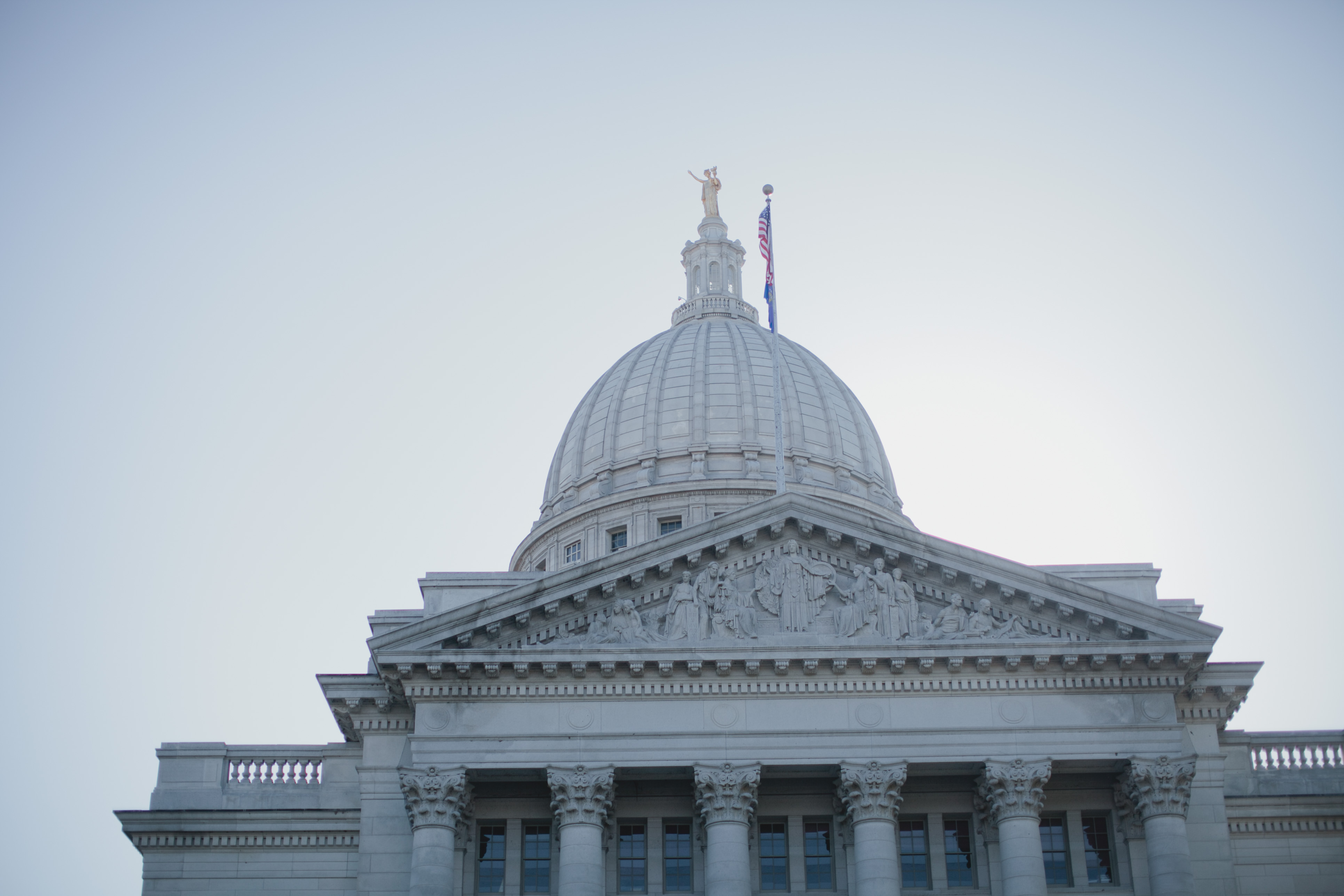 More than anything, we wanted our wedding to be something special – for us. Besides the extraordinary cost, nowhere in DC could compete with all the personal history we had in Madison. While we plan to stay in DC indefinitely, we loved the idea that Madison would always be a special place with meaningful memories that we could visit (in the Summers, of course; never visit Madison in the Winter).
It was the best decision for our wedding — and our budget.
Venues
We didn't have to search for venues, because each wedding location represented a different part of our story. Within 24 hours of making the decision, we had booked the venues, the photographer, the hotel, and more. We knew many of the people we booked with personally from our time in Madison (while Madisonians like to say it has a big city feel, Madison is still a small town), and it looked like we could manage the day for just over our budget of $10,000.
Ceremony
Our ceremony was at the Overture Center for the Arts, a structure designed by renowned architect Cesar Pelli, and we both love art and culture. I really wanted an outdoor ceremony, but feared I would worry myself off a cliff about potential rain, so we nixed the idea. Besides, Overture was within walking distance to everything else.
We got the Overture's ceremony fee ½ off because we were willing to wait to confirm our booking until the last minute (hooray!). However, even with the discount, this was more expensive than I was expecting.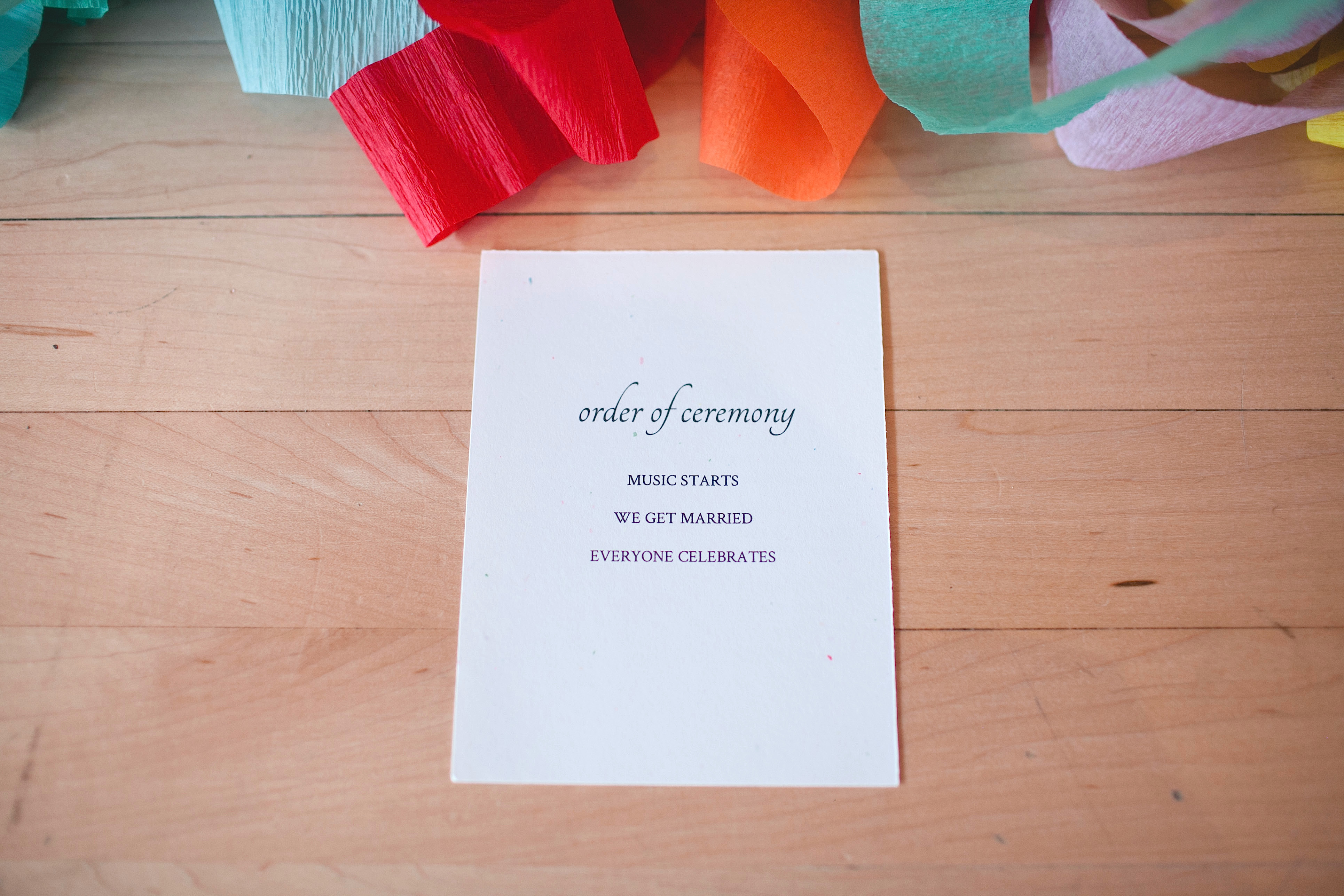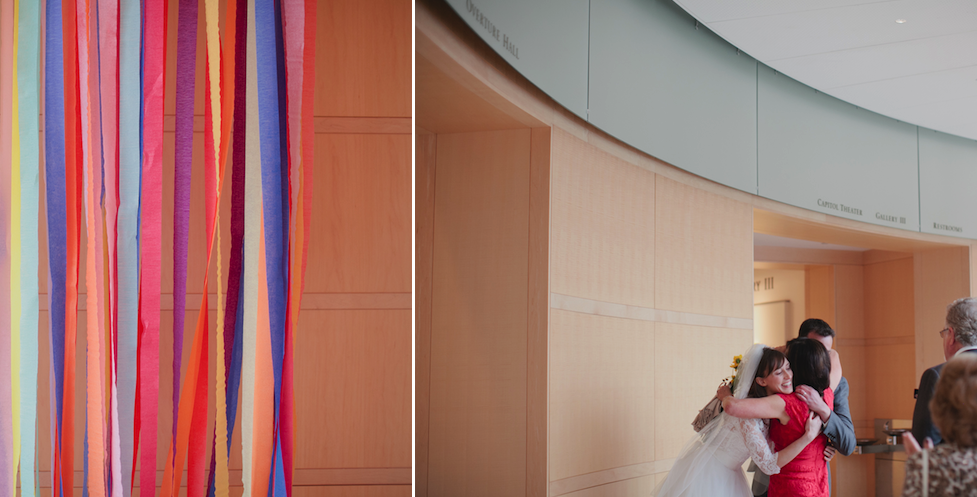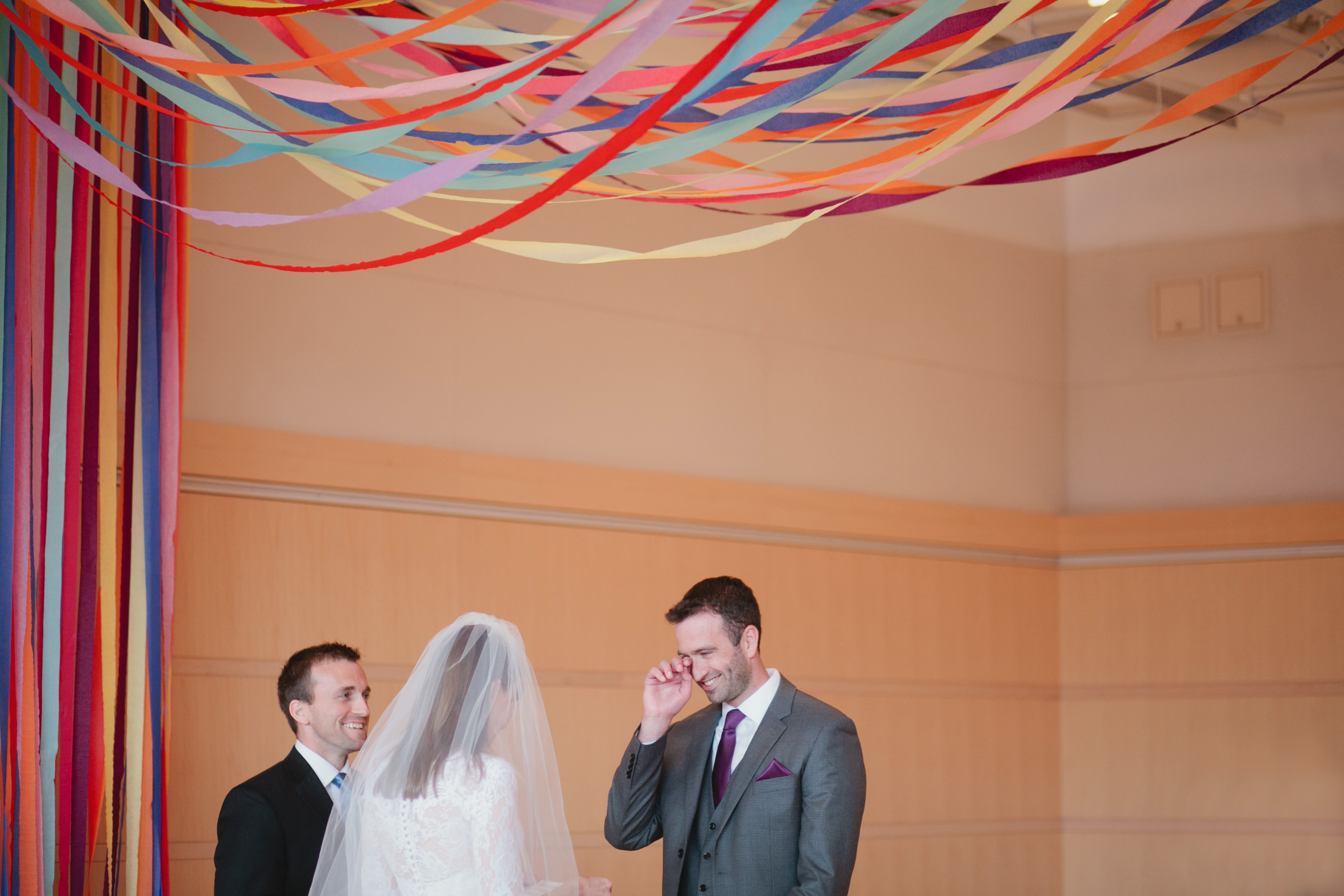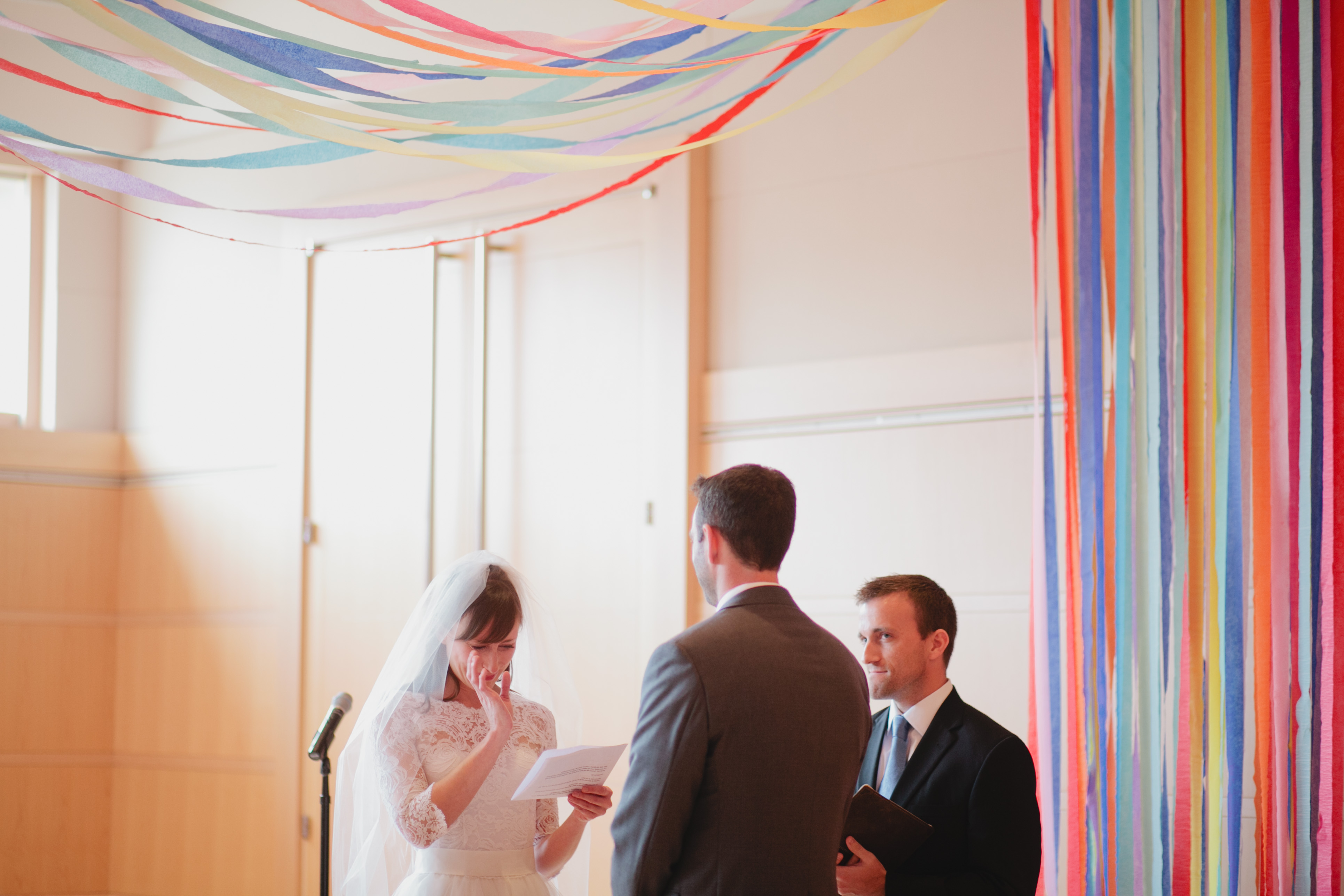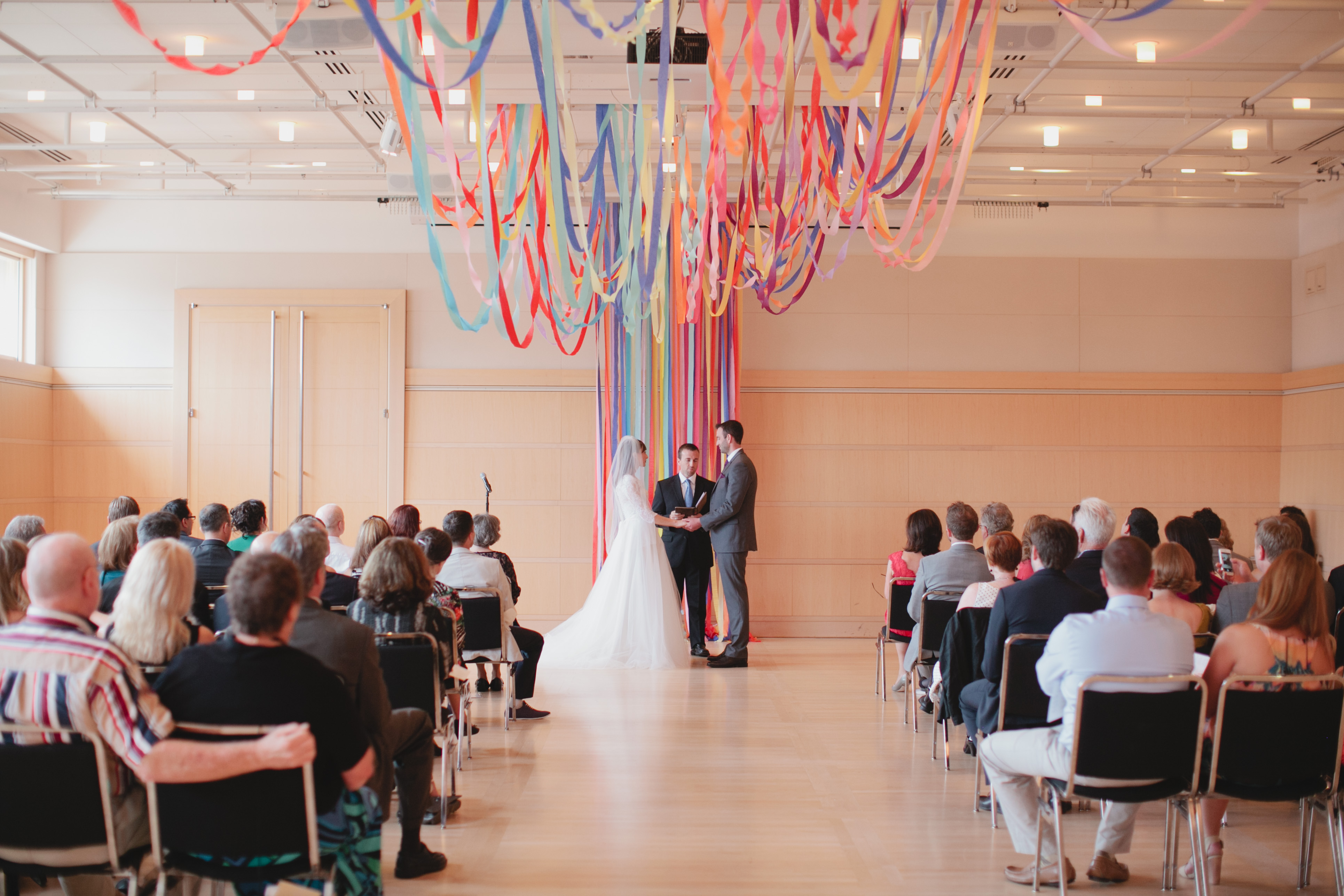 Drinks
We had drinks and appetizers at the Great Dane Pub & Brewery, the location where we first met in person (after we met online blogging). The Dane has great local beer, and is a Madison institution. They required a $500 guarantee in spending for 2 hours, which included the food and seemed reasonable for our calculations.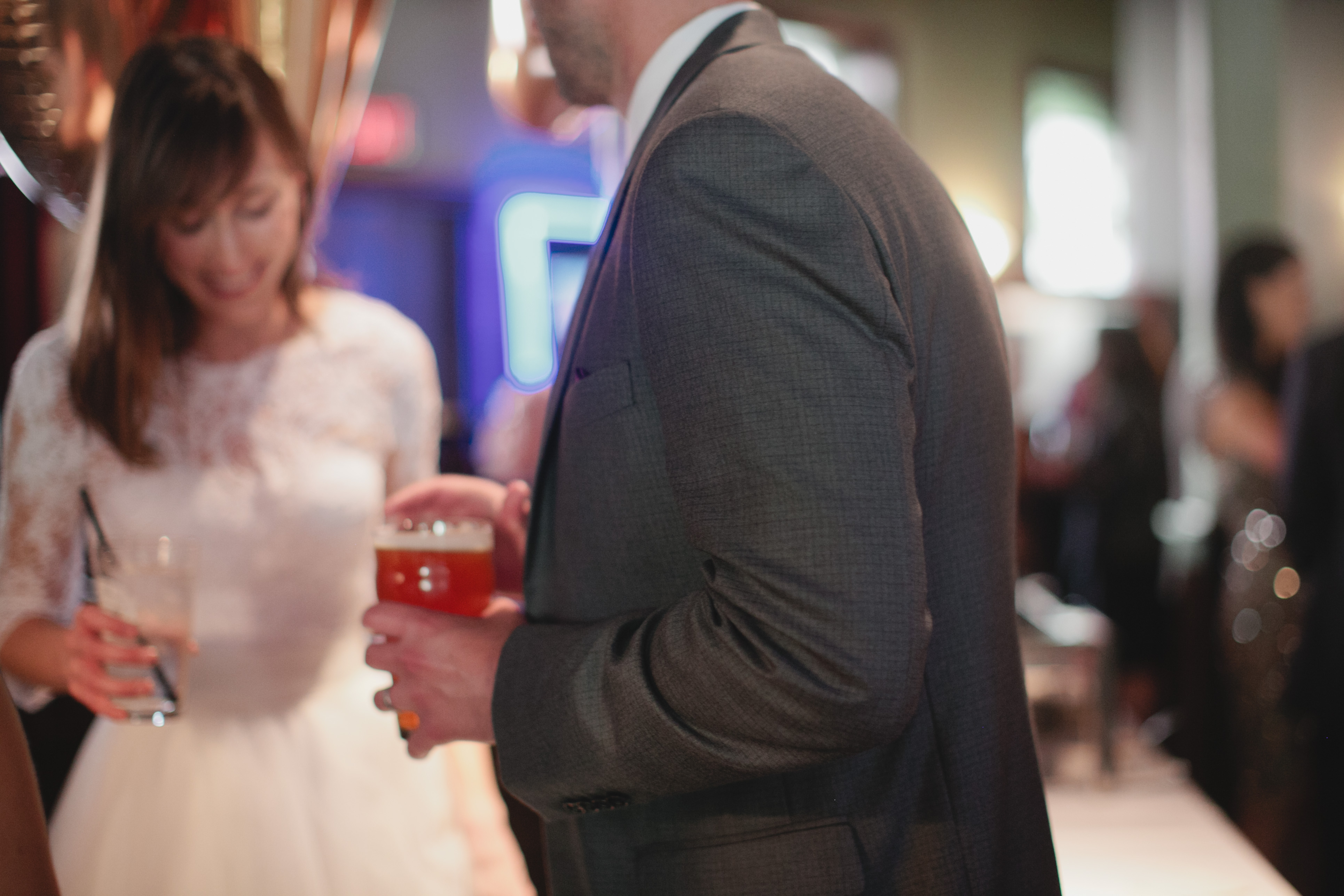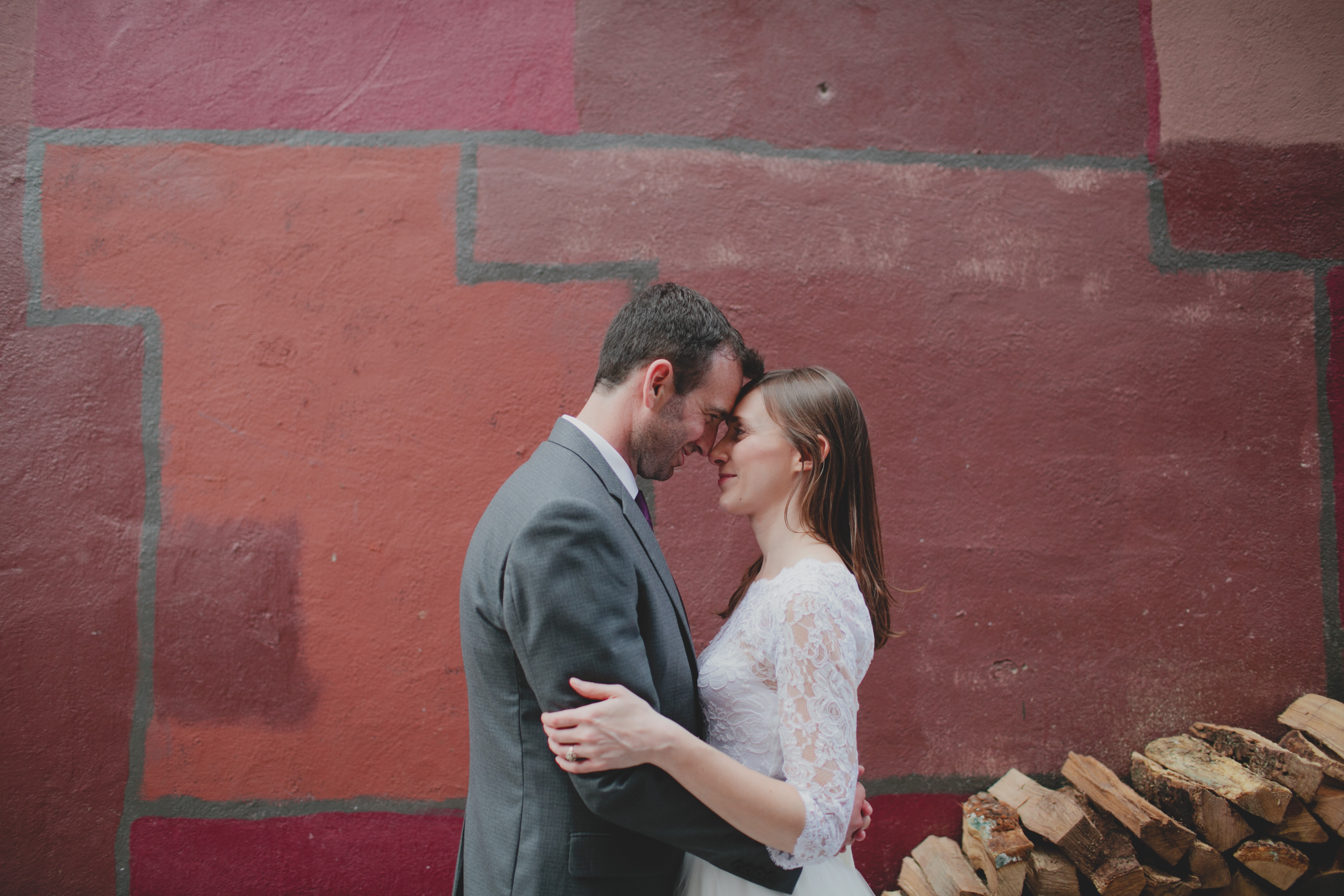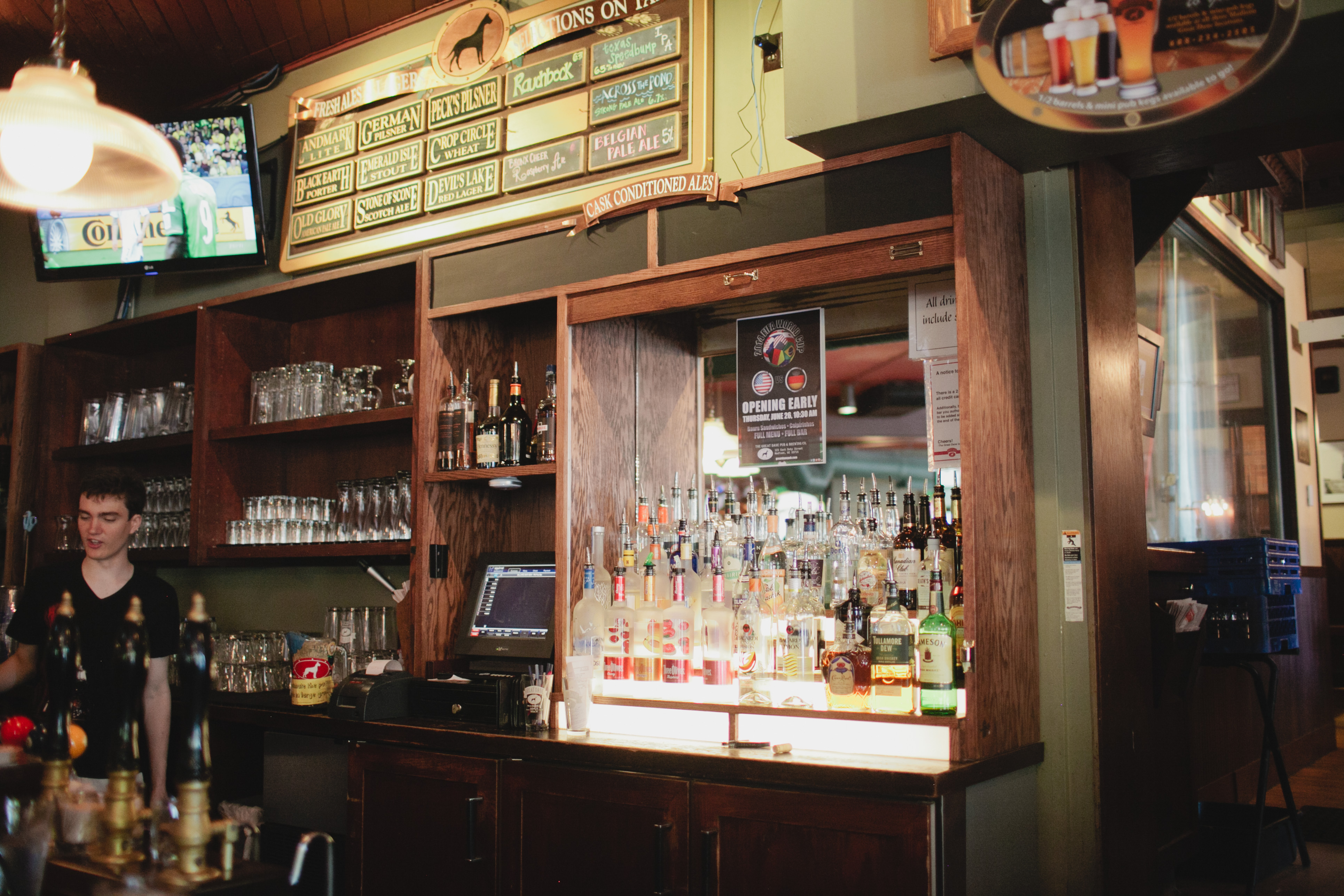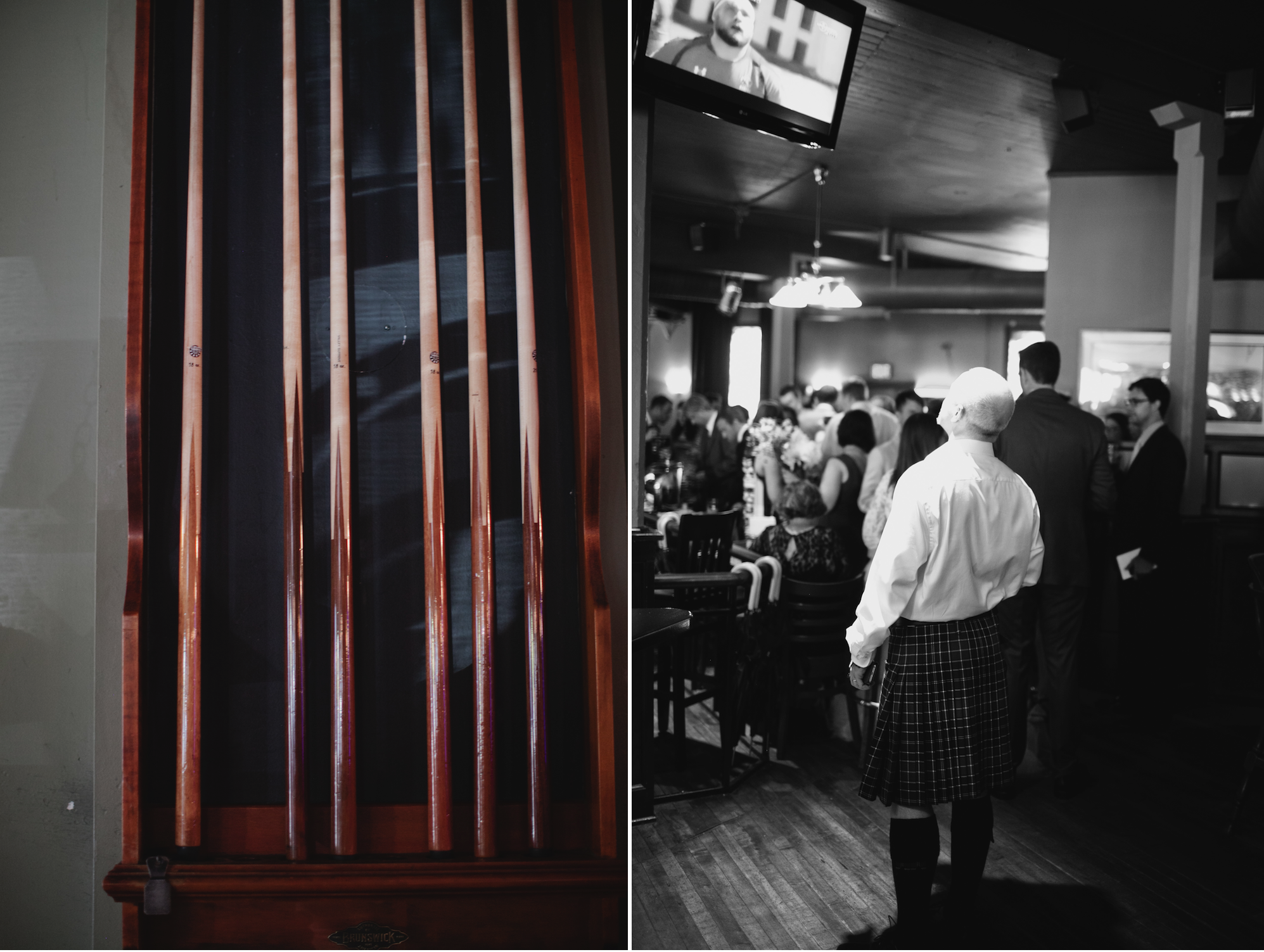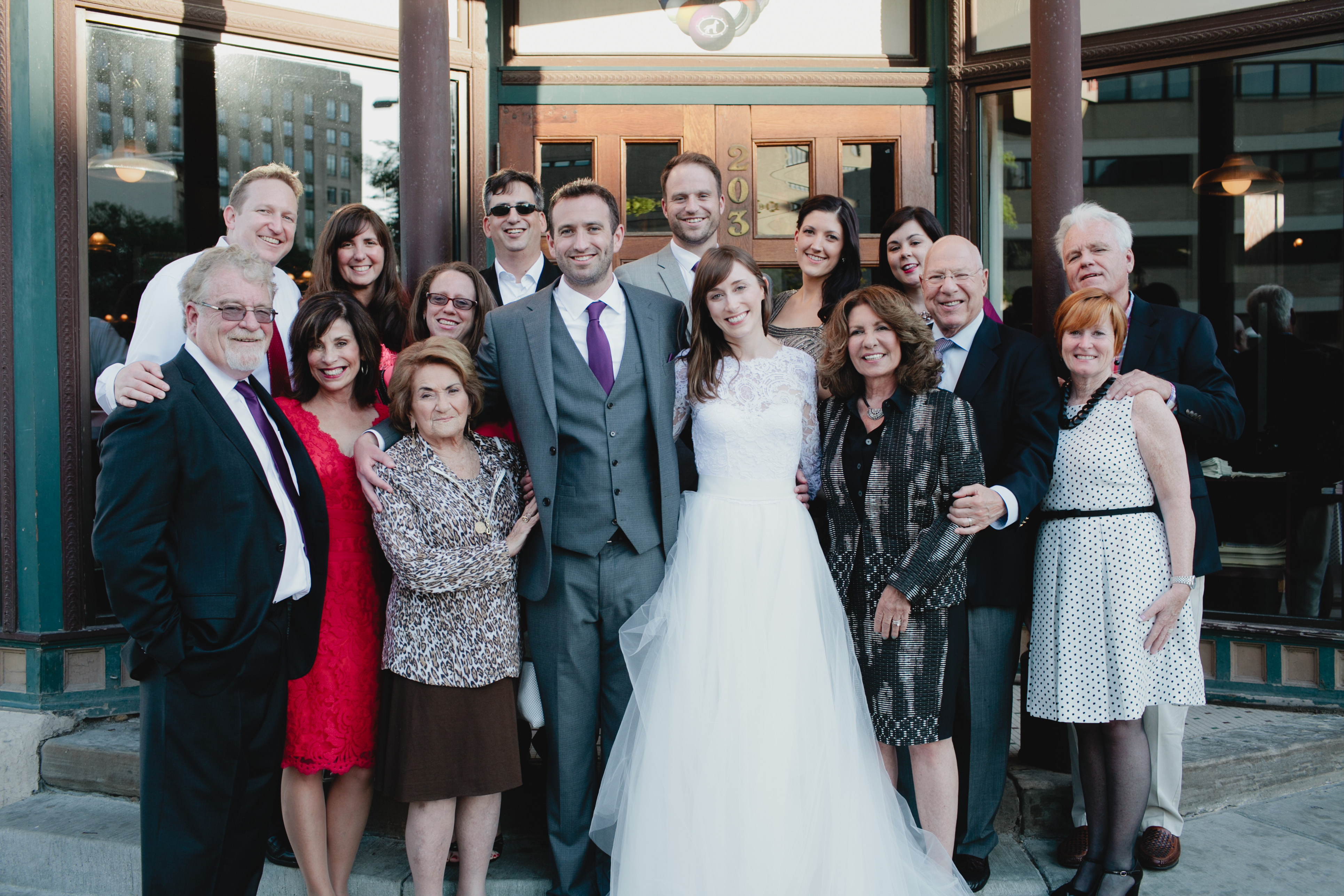 Dinner
For dinner, we took everyone to Cooper's Tavern, the spot where Ryan nervously chugged a beer (or two) just moments before he proposed on the steps of the Capitol on a business trip last year. We ate rustic food overlooking the Capitol Square, where we not only got engaged, but also had our first date during a Concert on the Square.
The spending minimum was $3000 for food and drink, which was both reasonable and doable, and there was no rental fee!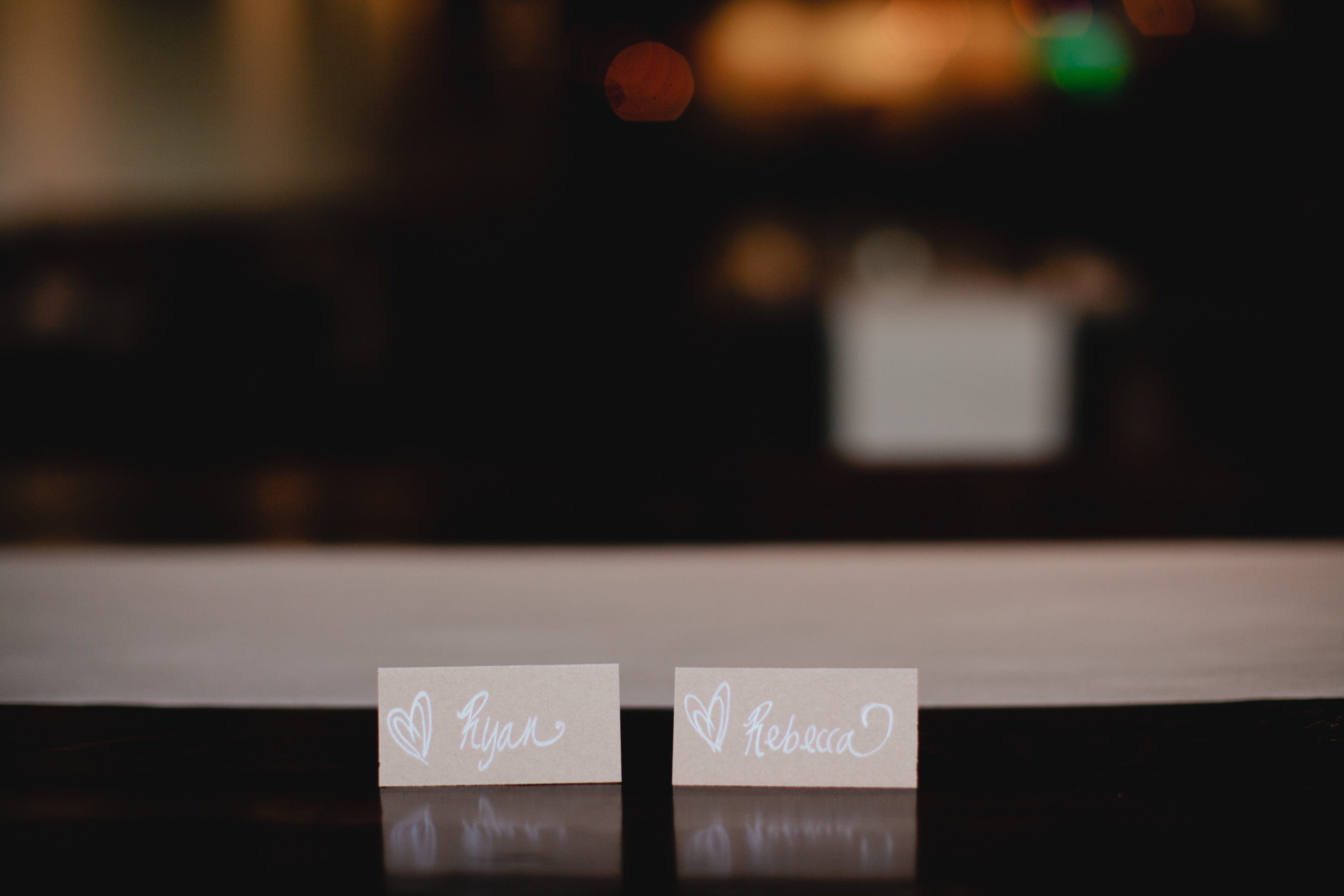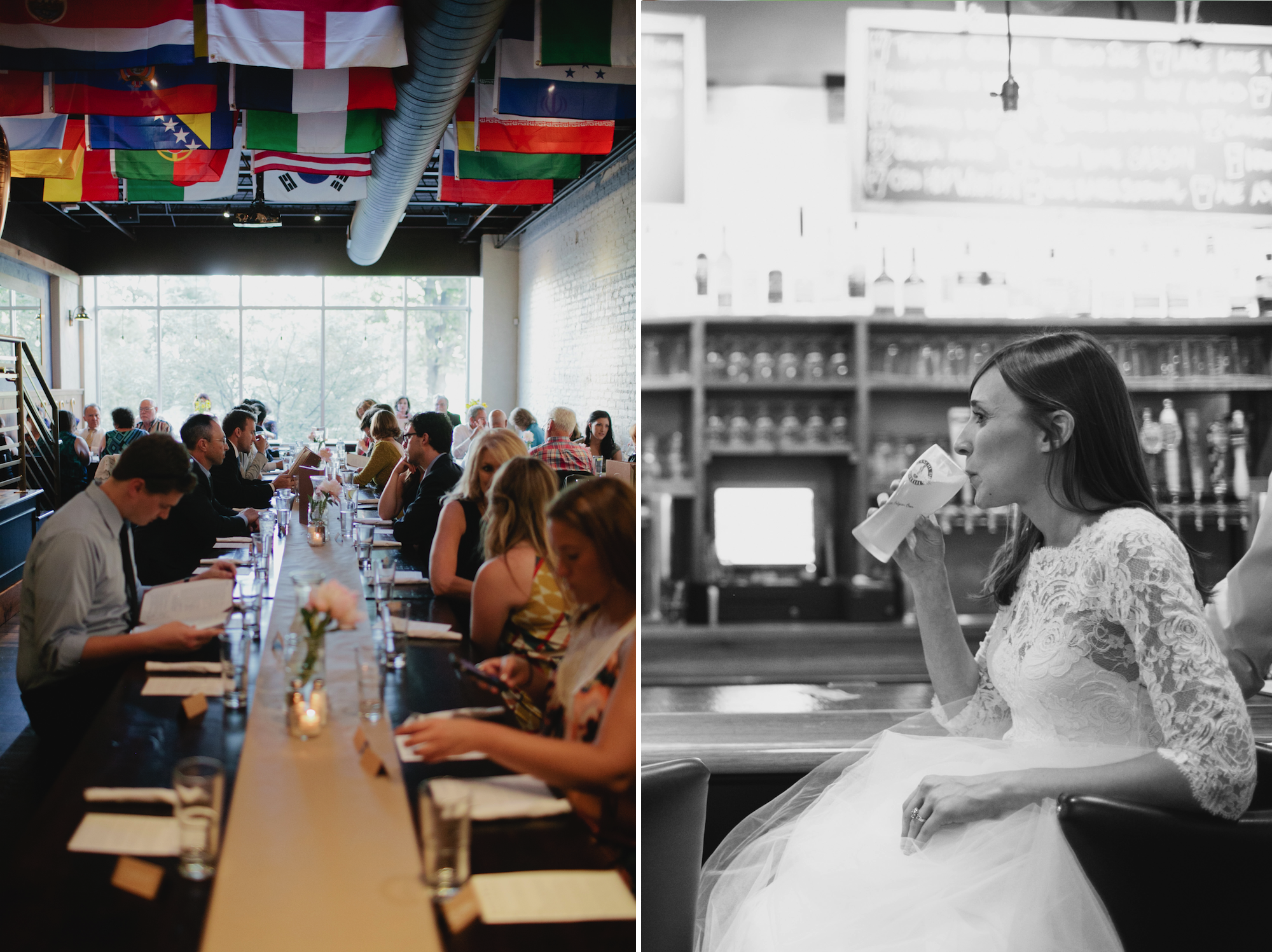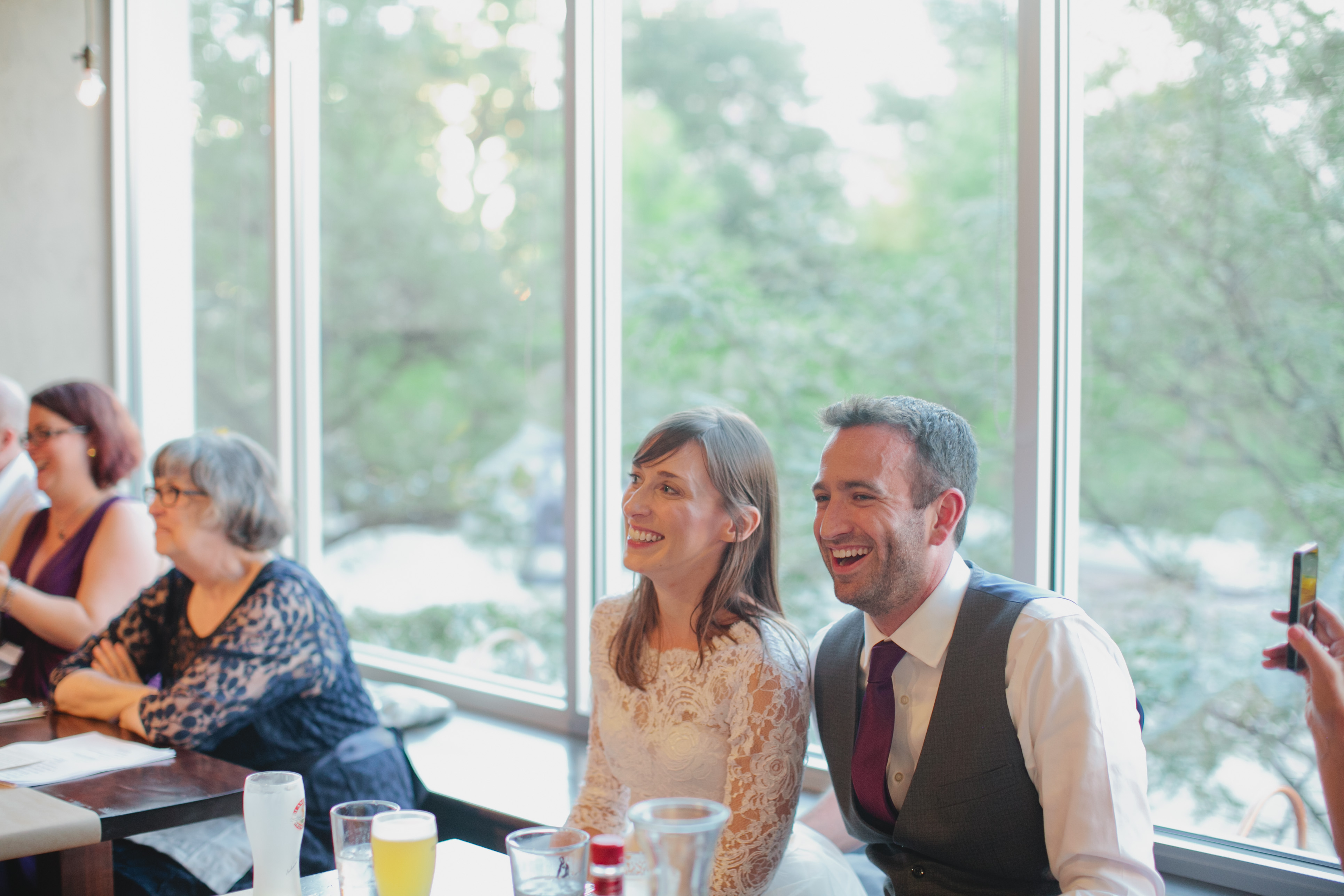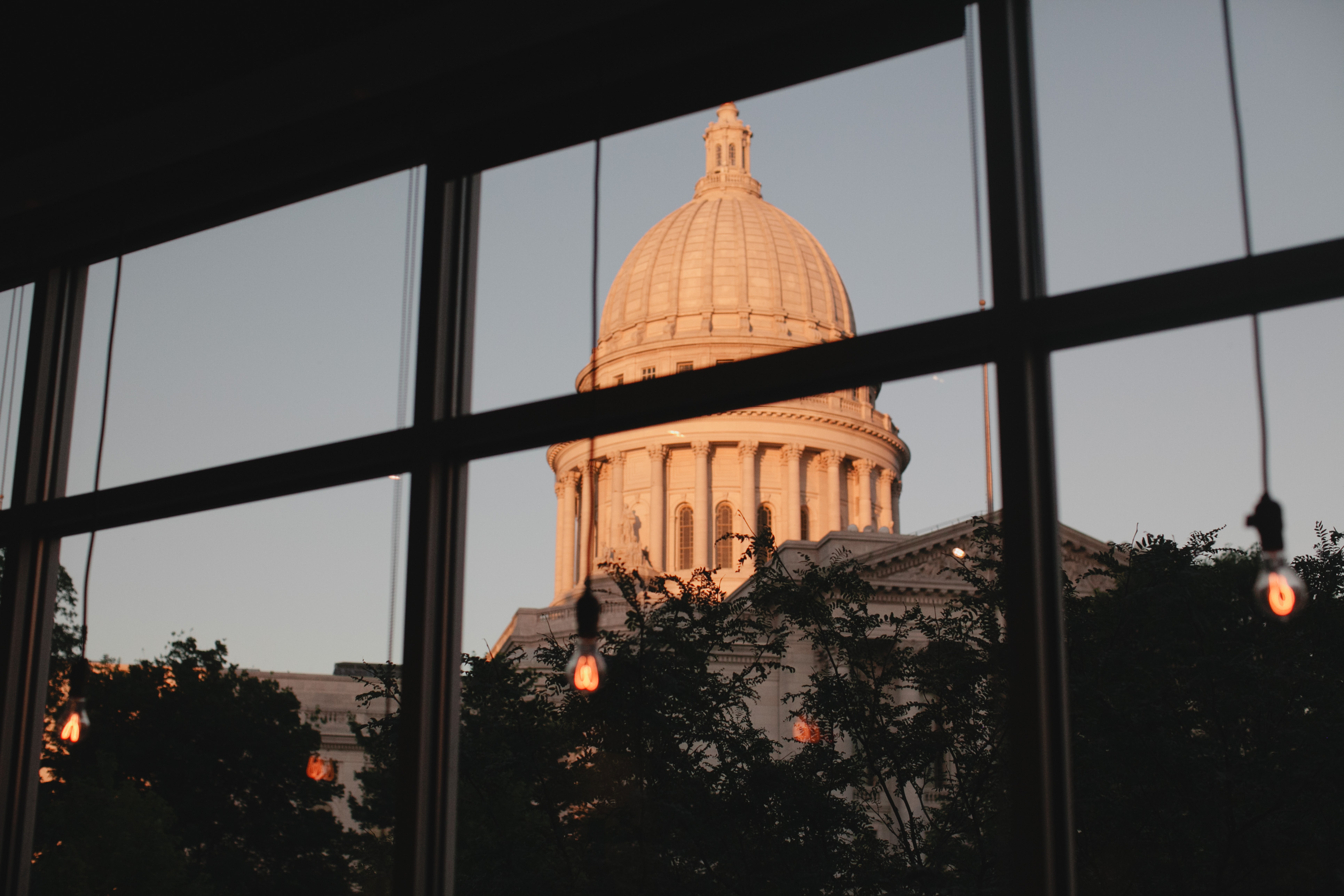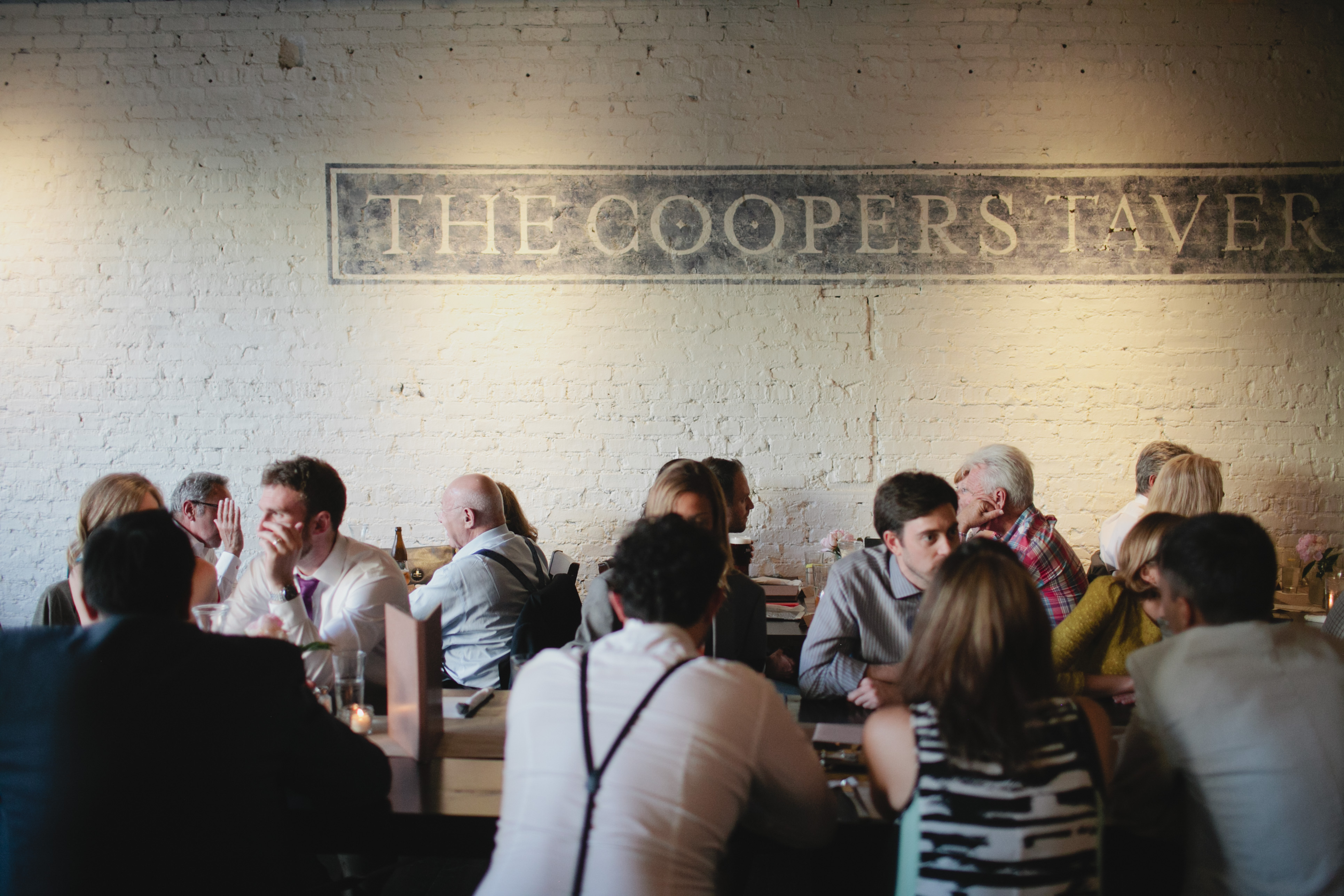 Dress
My dress was custom-made after I tried on similar dresses for 2x or 3x the cost. During the weeks leading up the wedding, I was under constant stress wondering if I had made the right decision until I had it altered by the sweetest woman in Dupont Circle for $100 (such a steal!).
If I could go back and change something, it would be the level of importance I put on that dress.  I would have liked to have spent less and even gotten a $200 dress at a department store. This is one of those places I felt a lot of pressure from family and friends.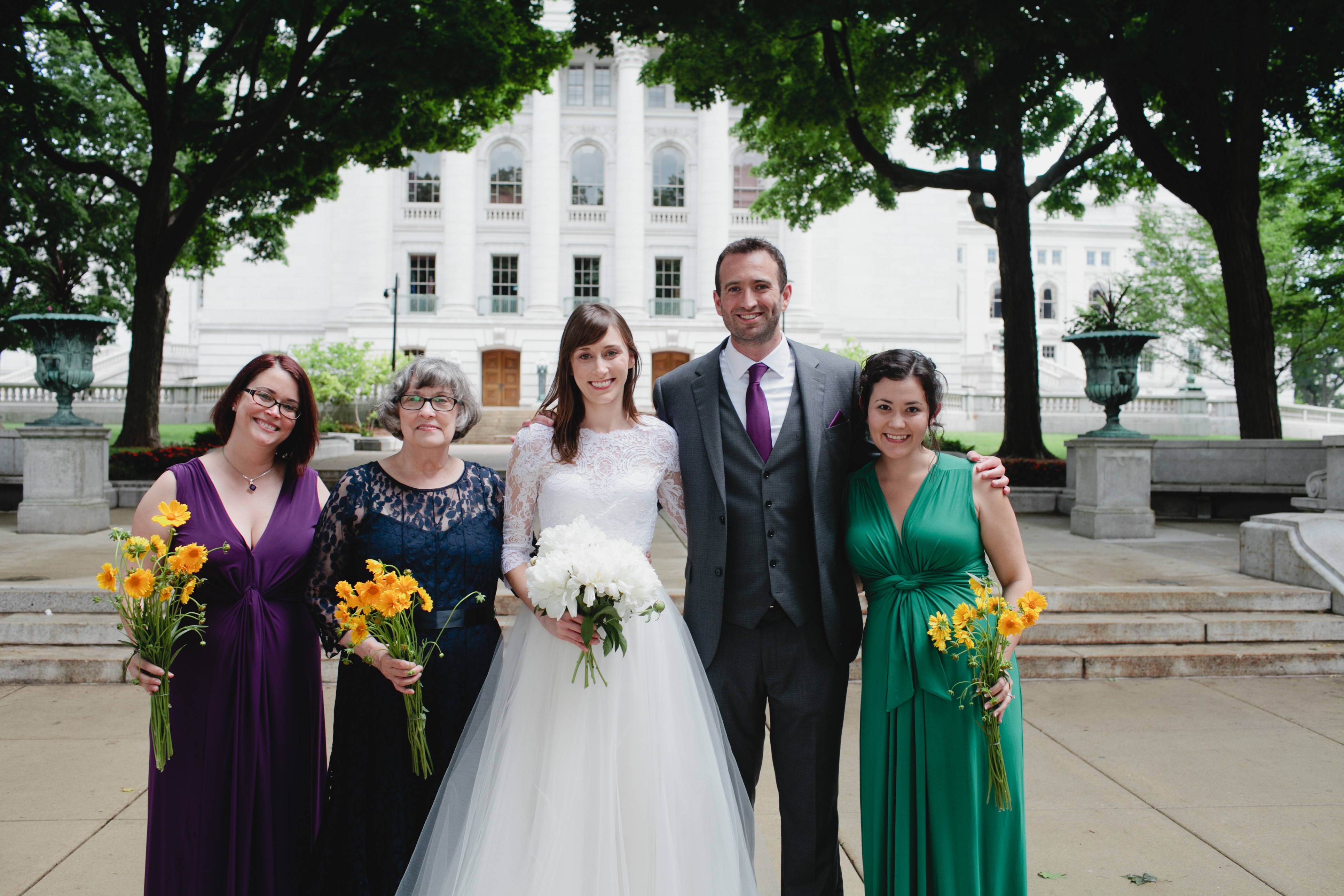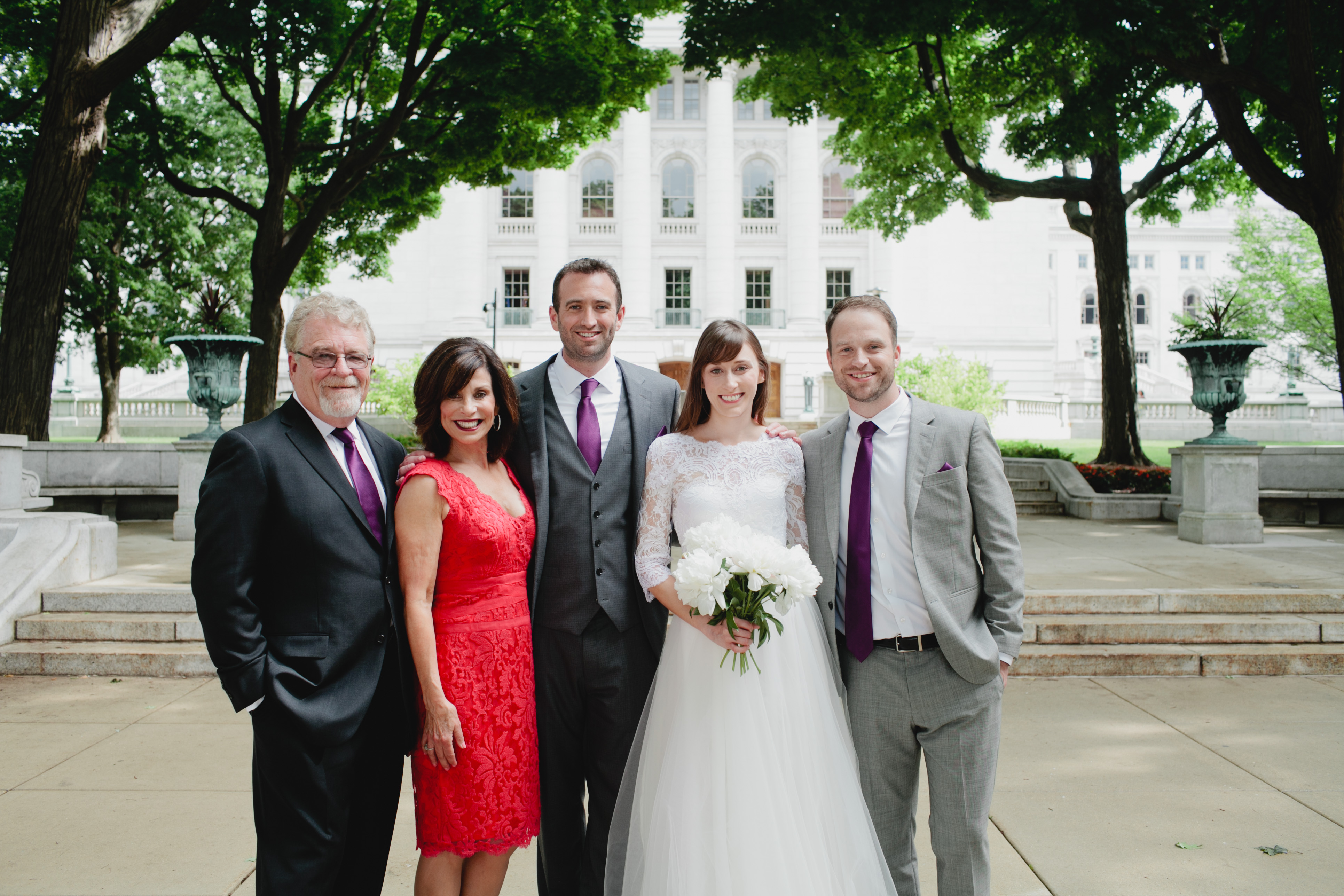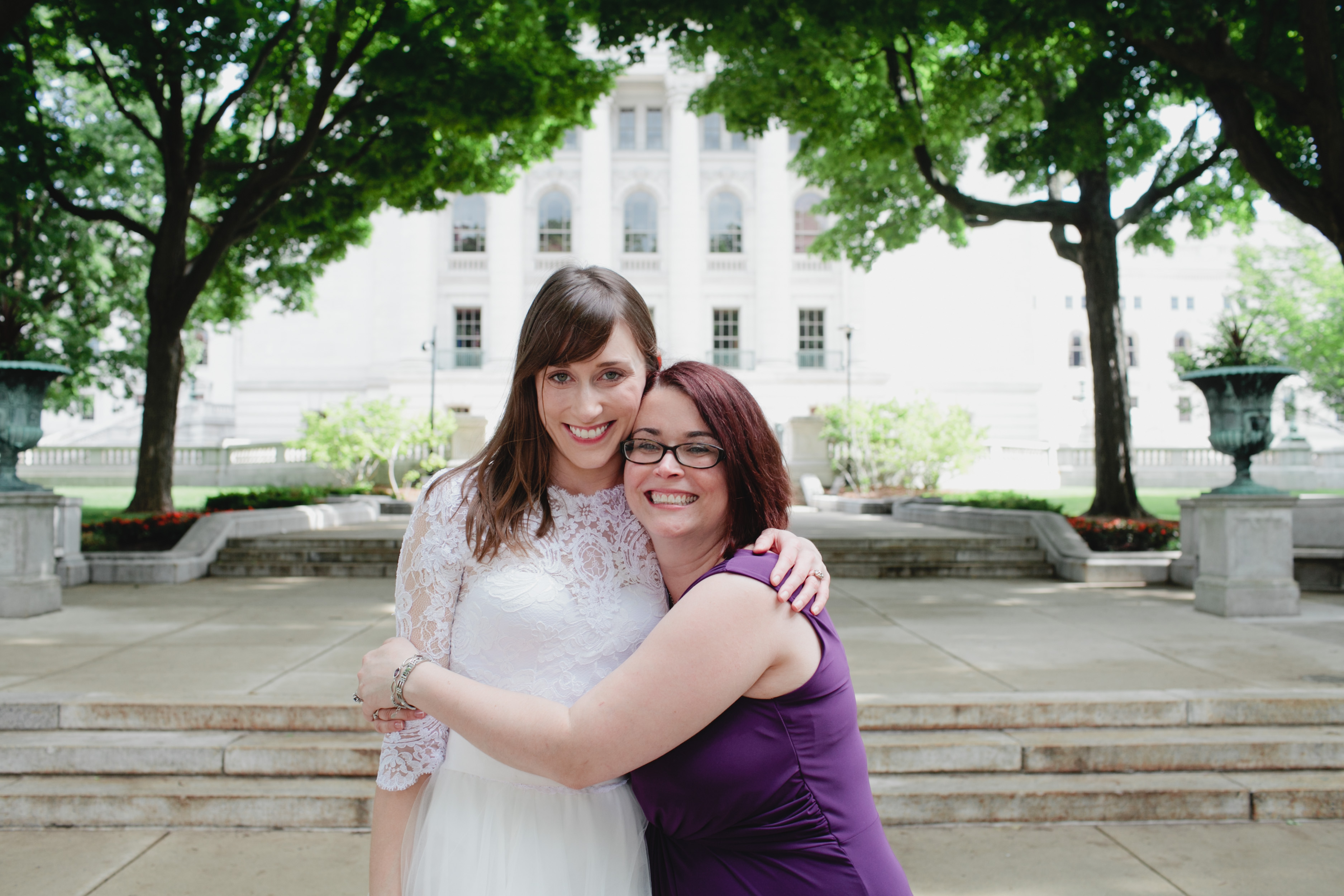 Suit
Ryan's suit was also custom-made by Indochino, and while it cost almost as much as my dress, it's something he will wear again and again. We were both surprised, however, that after sending in his measurements, he still had to get the suit altered when it arrived. I think he was just as stressed about his suit as I was about my dress!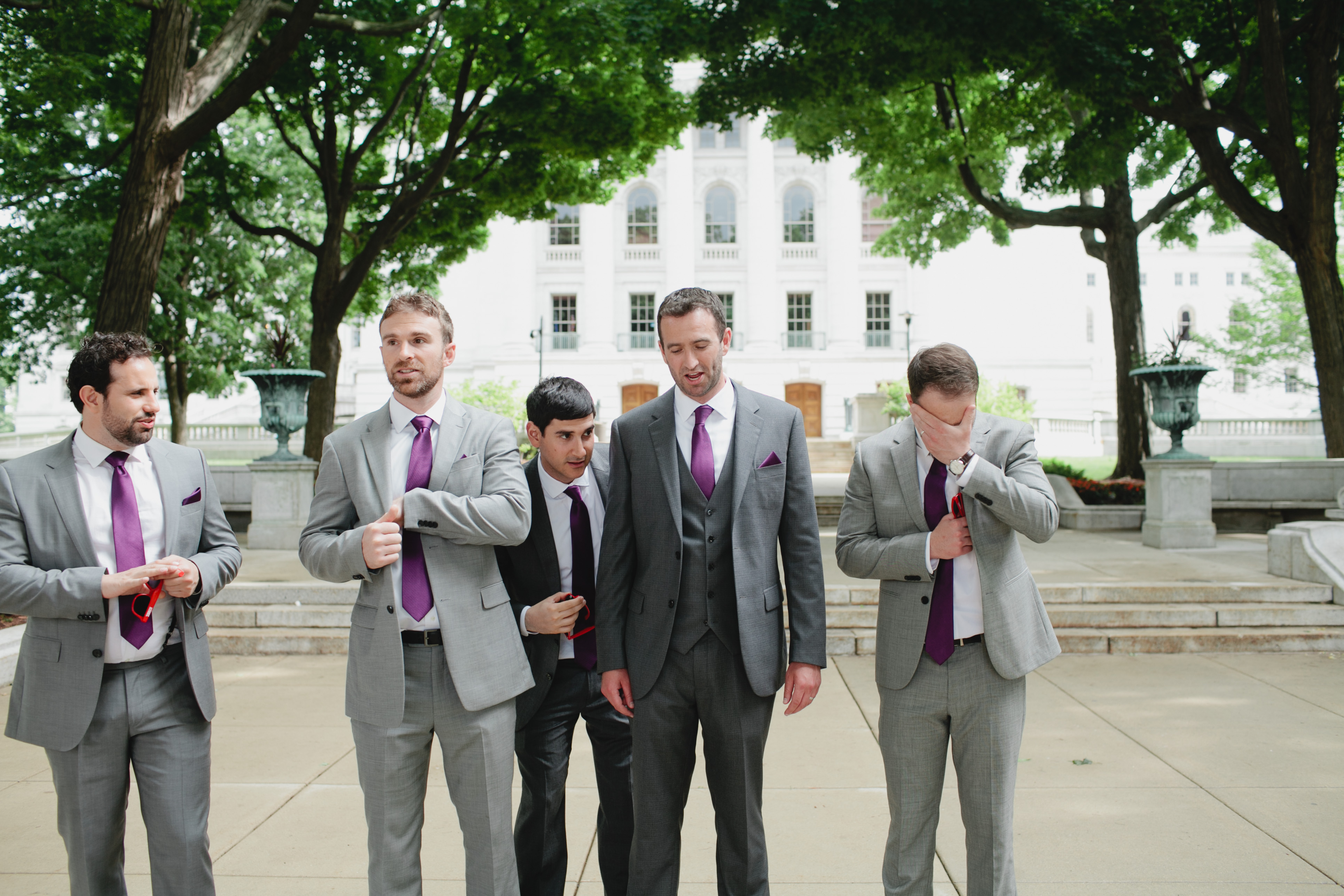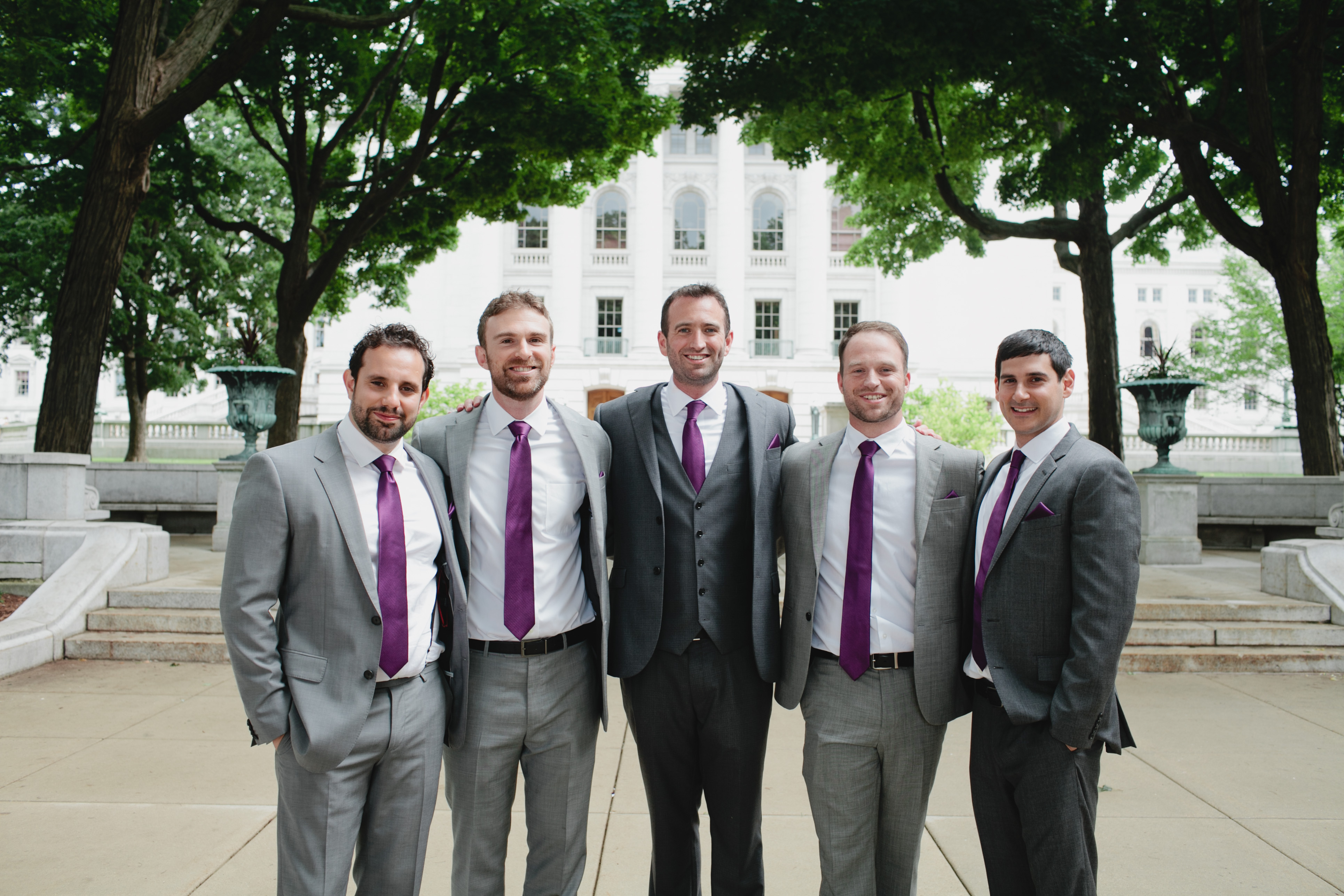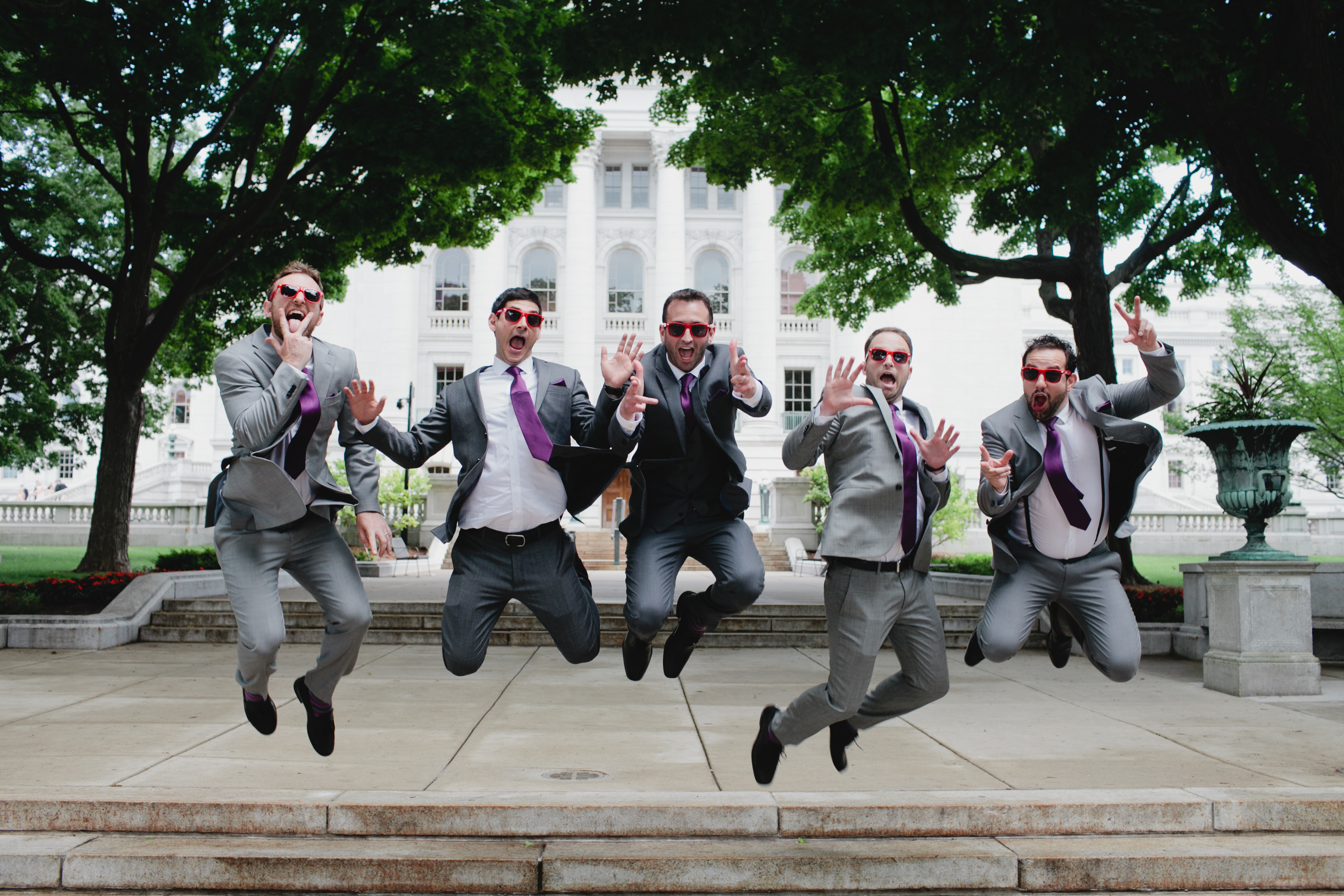 Photographer
Guys, photographers are really expensive. This could easily eat up your whole budget. While I had researched a few photographers to get a sense of cost when we were planning a wedding in DC, I only reached out to one photographer when we decided to have the wedding in Madison. We both knew her when we lived in the city, and I had been following her work ever since. She has a fantastic style and lucky for us, was affordable when compared to the other folks.
I was also pleased and delighted to learn that her costs included an engagement photo session (something we weren't planning on), and she just happened to be traveling to DC so we got to do the engagement photos here – score!
She also didn't retain any photo printing rights, which I guess can really add up for some folks.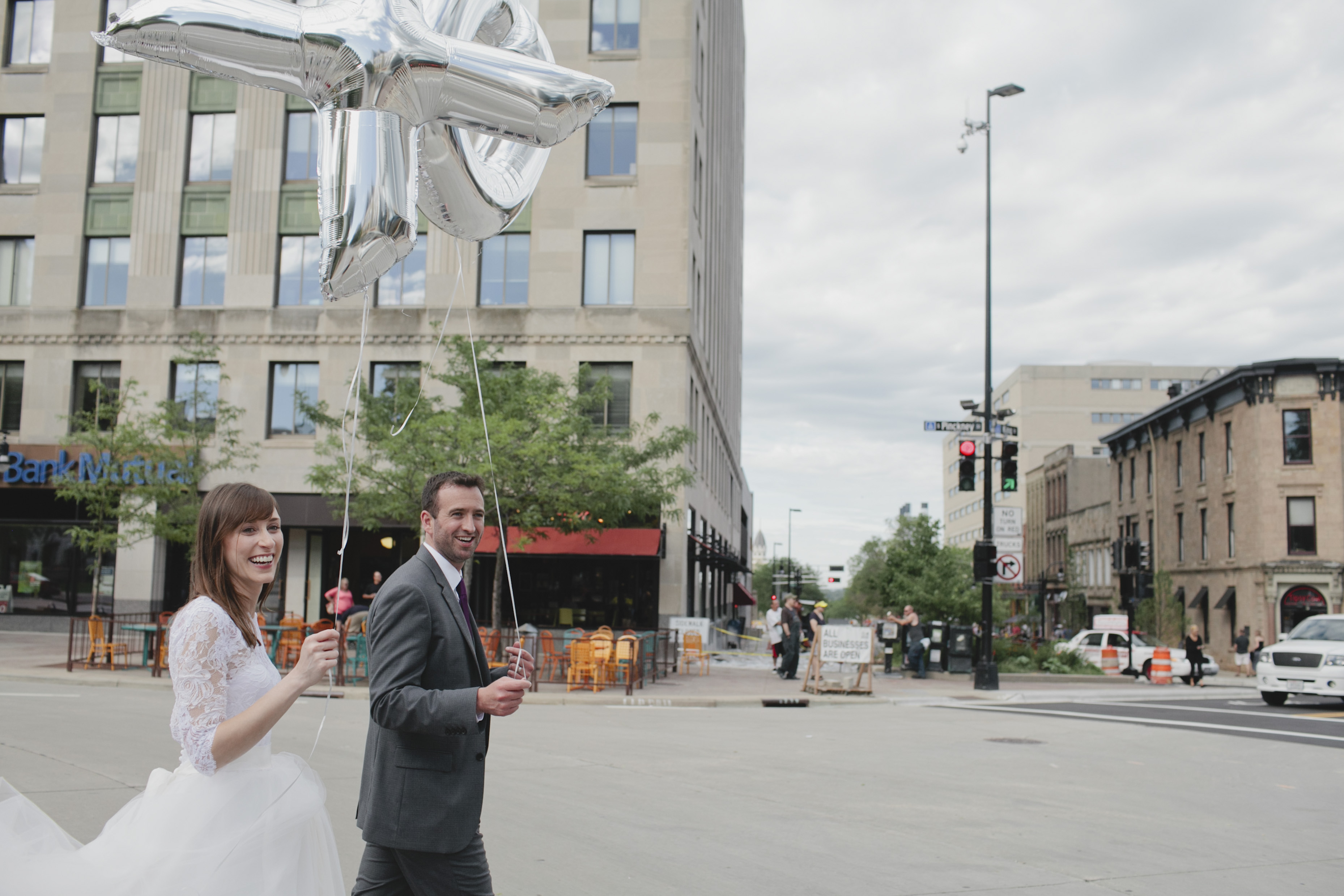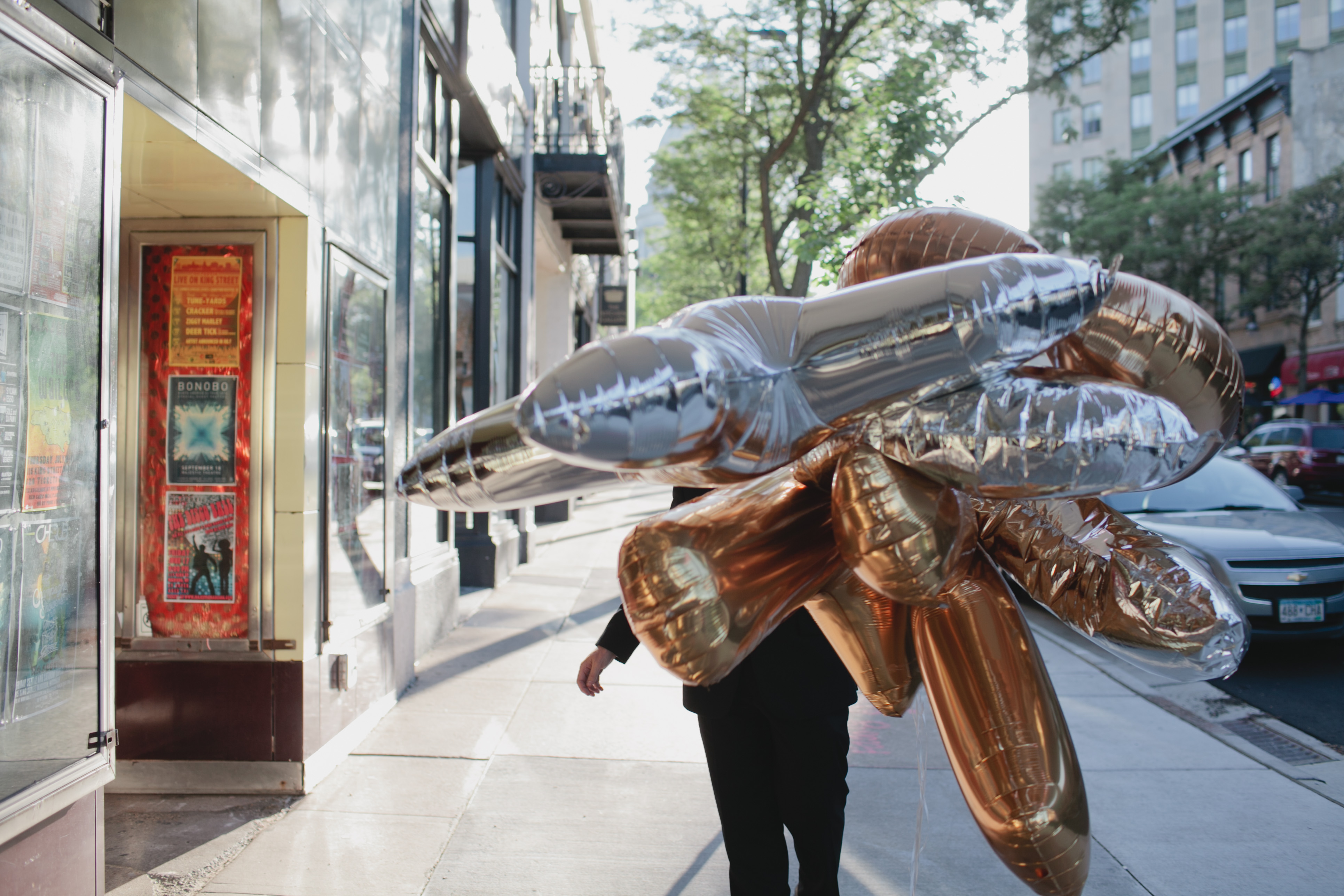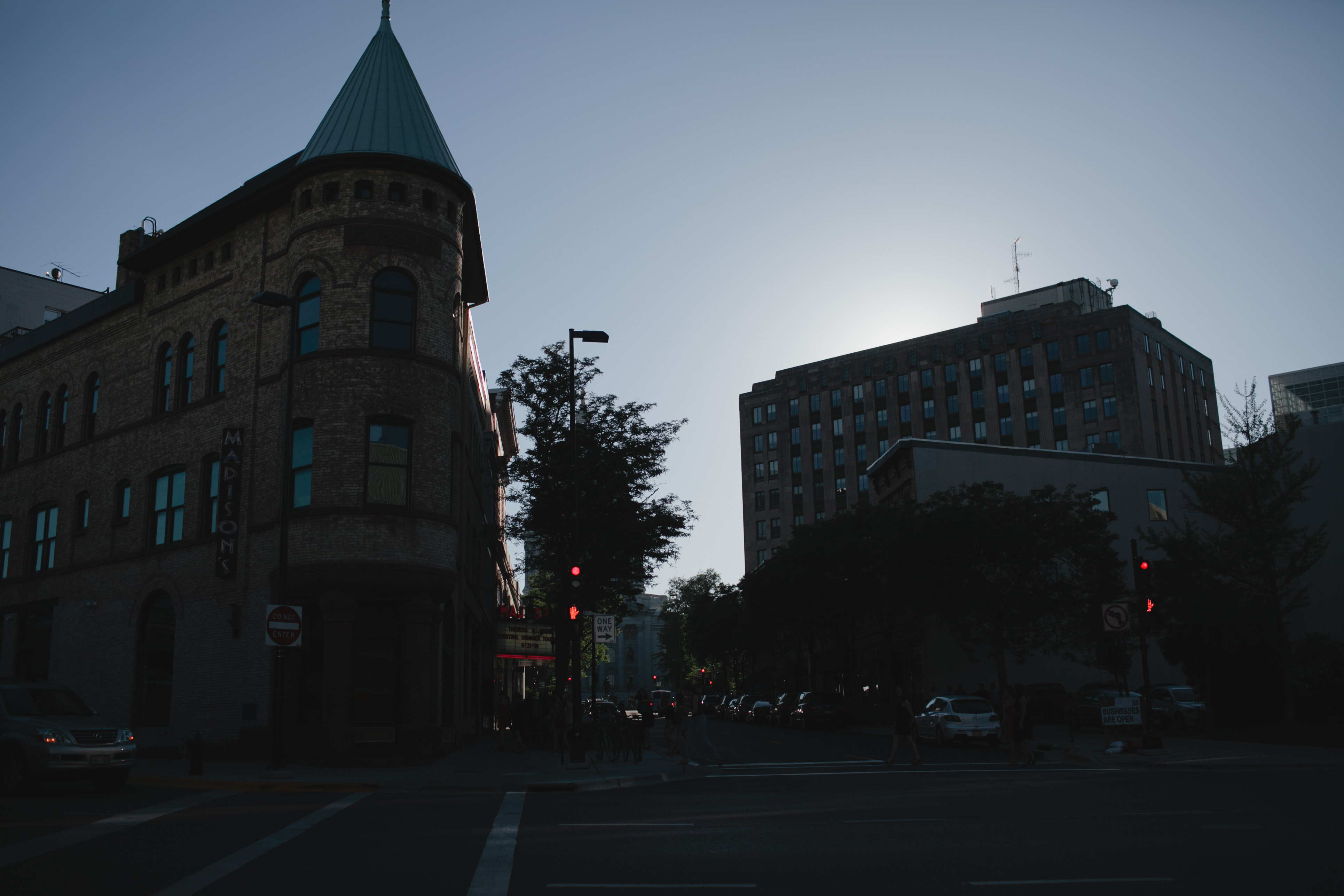 What Was the Final Damage?
Here's the detailed scope:
Initial Budget
Actual Budget
Wedding Website
$11.99 domain name
$42 theme
$54
$54
Marriage License
includes rush fee
$0
$145
Flights for 2 people
$838 flights for 2
$100 baggage fees
$632
$938
Hotel for 4 nights
includes breakfast, snacks, water, etc.
$592
$908.14
Wedding Dress
$1005.8 dress
$59.76 undergarments
$13.97 ribbon
$44.45 veil
$43.99 shoes
$116.33 alterations

$1000
$1284.30
Wedding Suit
$750 suit
$79 ties and pocket squares
~$80 shades and alcohol
~$100 alterations
$750
$1009
Day of Coordinator
$0
$200
Ceremony Fee (Overture)
$772
$772
Officiant
We paid for our friend's dinner Friday night
$250
$68.68
Drinks & Appetizers (Great Dane)
Open bar, appetizers
65 guests, includes service charge and sales tax
$800
$1189.18
Dinner & Drinks (Cooper's)
Open bar, salad, four entrees, dessert platters
65 guests, includes service charge and sales tax
$3735
$2689.38
Decorations
$400 for Overture labor to hang streamers
$154.64 for streamers + kraft paper table runners
$100.33 for balloons
$36 for helium
$69 for namecards
~$5 for cardstock programs

$250
$764.97
Flowers
from the Farmer's Market
$250
$60
Photographer
includes engagement + wedding photos
$2532
$2532
Yellow Bus
for guest transport in between locations
$750
$210
Meals + Random Charges
includes all lunches, dinners, drinks,
taxis, airport food, wrinkle releaser, etc.
$0
$699.05
Thank You Notes
$0
$101.95
TOTAL
$12,366.99
$13,625.64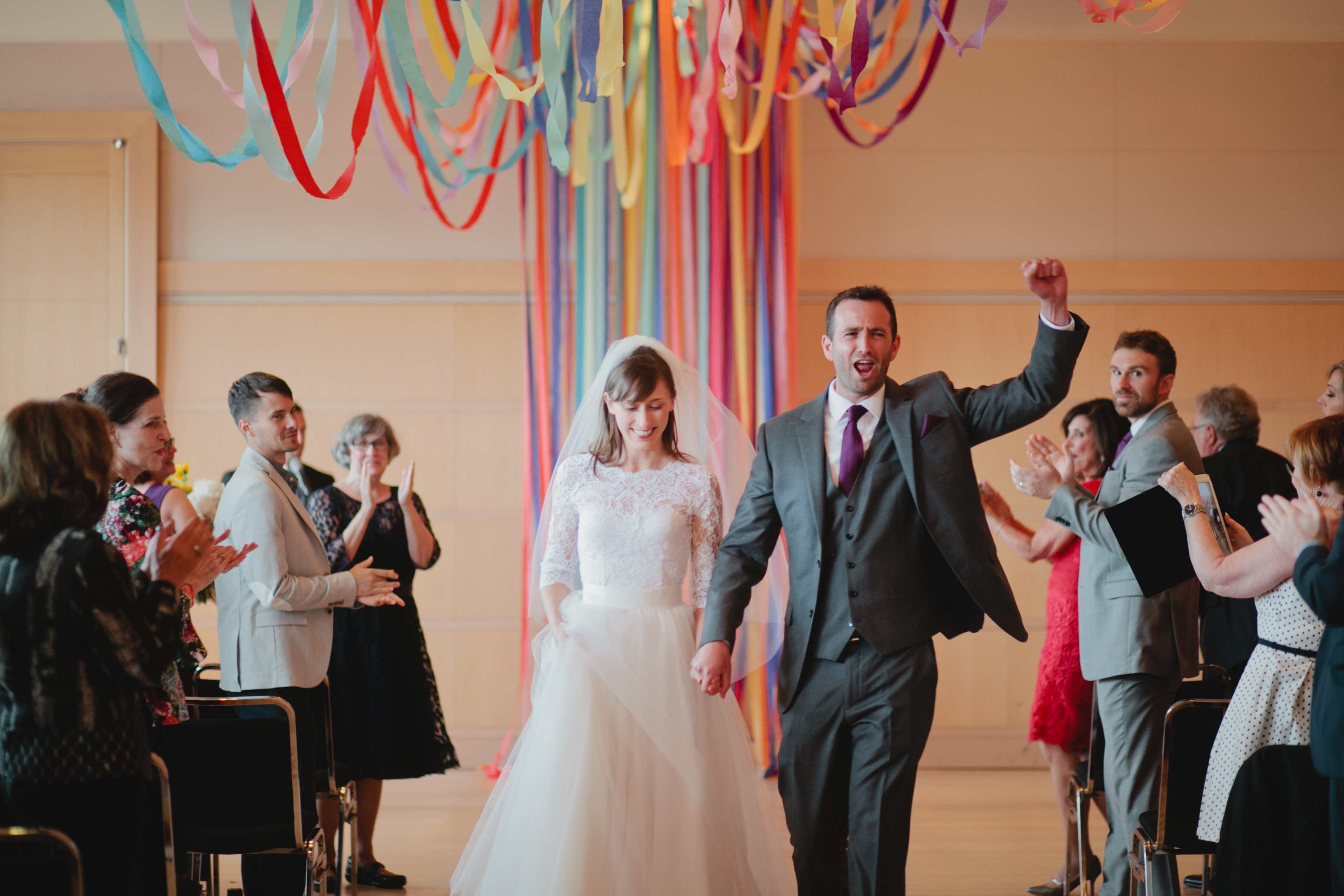 How Did We Pay for the Wedding?
Parents.
We asked for minimal gifts from our parents; each side offered and wanted to give more, but it was important to us to pay for what we could on our own.
$3189
Airbnb.
We rented out an extra room in our apartment to help make some extra dough. This could have been more (in the past, we've paid for entire vacations this way), but our landlords told us to stop — boo.
$1869
Savings.
We split this evenly across both our savings accounts.
$4784
Cash Wedding Gifts.
We received more checks than this, but spent it on gifts or were able to put it into savings. I will always give cash/checks to future couples; we had no idea how useful this would be.
$3783
Total
$13625
Well, that's it! What we spent, where we saved, and how we paid for our special day. I hope this helps future couples, and gives them permission to spend where they want (and don't want) for the big "I do." I also hope it helps current couples talk more openly about their finances.
To love and money.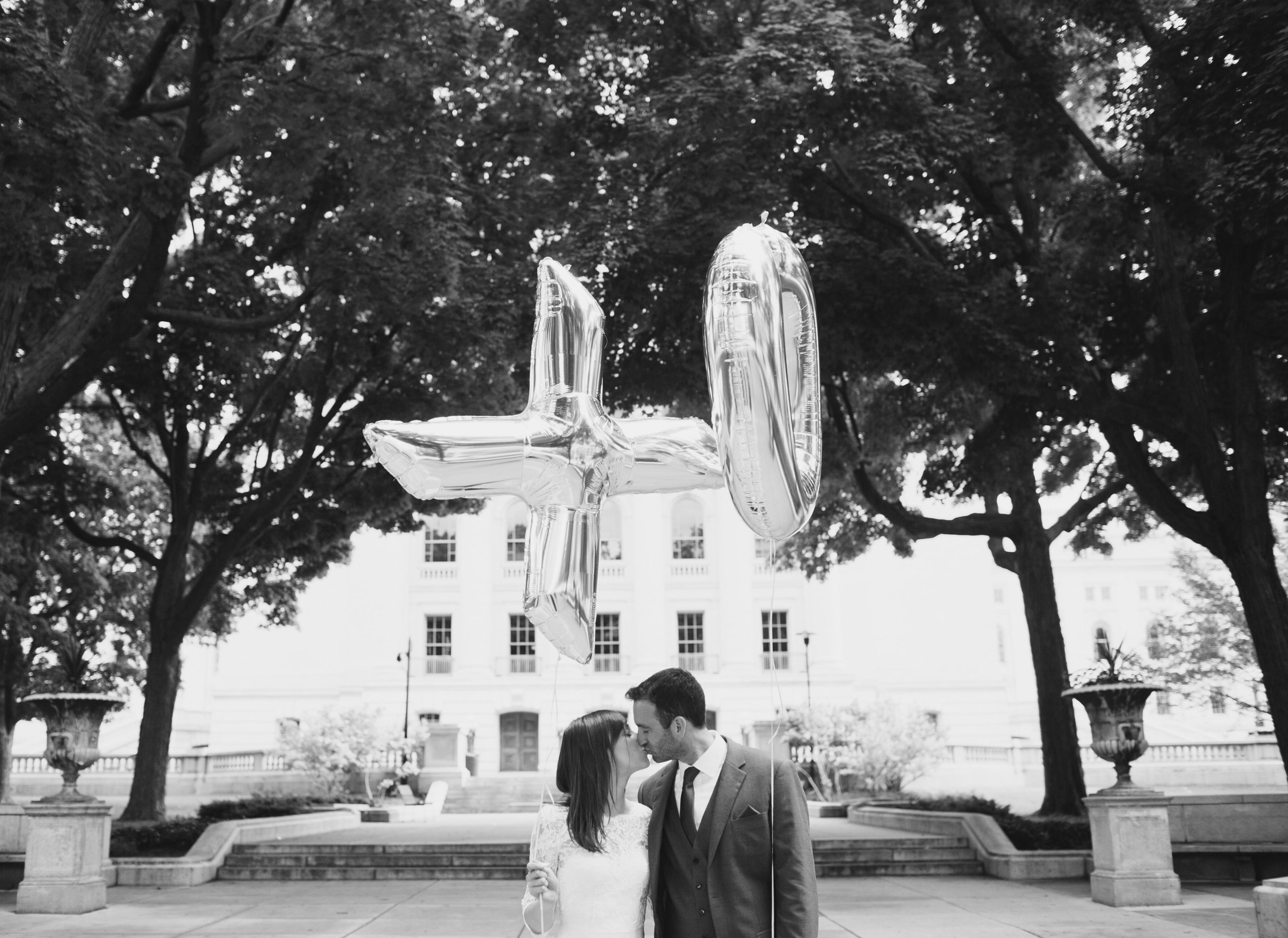 What do you think? Too much spent, too little, or just right? Where did you spend and save?
Photo Credits: Megan Elise Photography.